Robert Pattinson & Kristen Stewart Laughing & Joking In First Joint Interview Since Cheating Scandal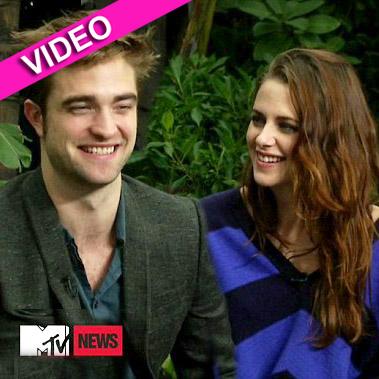 It's as if nothing ever happened.
Robert Pattinson and Kristen Stewart seemed like the carefree young couple Hollywood fell in love with, in their first joint interview since this past summer's cheating scandal put their A-list relationship into peril.
The hunky Englishman, 26, and broody beauty, 22, sat down with castmate Taylor Lautner to promote the Twilight Saga: Breaking Dawn - Part 2 with MTV, and we've got the highlights for you right here on RadarOnline.com.
Article continues below advertisement
Asked about their sex scene in the highly-awaited film, sexy Stewart deferred the question to Pattinson, who compared the exchange to the iconic love scene between Patrick Swayze and Demi Moore from 1990's Ghost.
"I haven't seen it yet, so I don't know, but I imagine it's quite like the scene where they're doing pottery," Pattinson said.
Asked about their Halloween costumes this year -- they went to a party at a cemetery in Hollywood Wednesday, he in a clear mask, she in a wig and sunglasses.
"Oh yeah, I look awesome," Stewart said, while the droll RPattz joked of his costume: "I chose someone who is just genuinely terrifying -- it was a $3 mask from a 7-Eleven."
Stewart cryptically referred to the touch-and-go nature producers approached promoting the new film, with the scandal's sizzle not dead just yet.
"For the last few press junkets, they've been separating everyone, which is silly," she said. "I think because we love hanging out."
Article continues below advertisement