Kristen Stewart Appears On Leno, Then Scoots Over To See Robert Pattinson On Kimmel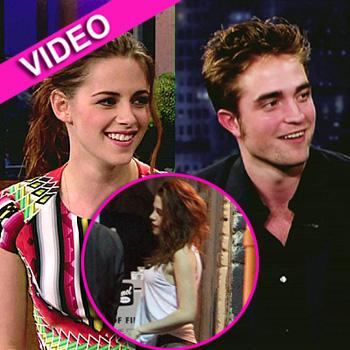 Kristen Stewart just can't stay away from Robert Pattinson.
The young couple each made appearances Monday to promote The Twilight Saga: Breaking Dawn - Part 2, she on The Tonight Show with Jay Leno, he on Jimmy Kimmel Live, and after her chat, she scooted to Kimmel's studios in Hollywood to reunite with her on-again love.
While there weren't any revealing anecdotes about their complicated relationship in either chat, it spoke volumes that KStew hightailed it to Kimmel, as RPattz was wrapping up.
Article continues below advertisement
Calling the ending of the film "so shocking," Kristen said that "every time I see it or even think about it I get giddy … it freaks me out."
Asked about her recent threadbare Halloween outfit of a mask, Stewart said she picked it up in Japan at a novelty store "that sold absolutely everything you could possibly imagine -- really weird sex toys, fish-flavored Tootsie Rolls … and I bought it all!"
Over on Kimmel, the conversation didn't get sex toy-saucy, but we did get a tidbit of Pattinson's political views (or lack thereof).
MORE ON:
hollywood happenings
Article continues below advertisement
Asked about the election, the England native said, "I don't like any responsibility.
"I would vote for people like me who can't vote," he said. "When Obama won last time, I was doing the press tour for the first Twilight movie, I was promoting it. I didn't know what was going on, people were screaming on the streets in New York."
Watch the video on RadarOnline.com
The Twilight Saga: Breaking Dawn – Part 2 hits theaters on Friday, November 16.