Savannah Guthrie Makes Robert Pattinson Squirm On TODAY About Love Life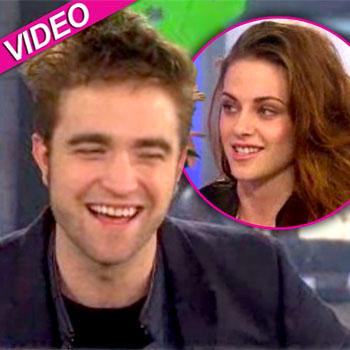 Robert Pattinson and Kristen Stewart have double-talked their way through tricky questions about their romance on their current press tour, and the trend continued on Thursday's TODAY show, where RPattz was clearly uncomfortable when pressed if he and his two-timing temptress had renewed their relationship.
When Savannah Guthrie asked the A-list Englishman if he's with Kristen again, he responded, "I want to ask, because we get asked that all the time -- it's like, 'Who is actually asking?' Is it in your contract?"
Article continues below advertisement
Asked if the relationship queries were too personal for his comfort, he said they don't "have to be" and only become "personal if you answer it."
On Wednesday, Stewart was posed with the same question, and answered, "I'm just going to let people watch whatever little movie they think our lives are and go for it. Keep them guessing, I always say."
Pattinson said the final chapter in the Twilight series marks the end of his youth: "Just a slow death from now!"
Pattinson said his nickname -- RPattz -- sounds "like an antacid tablet.
"I don't understand what the nickname culture is … if I could figure out a way to get rid of that, it'd be amazing. It does sound like an antacid tablet."
The Remember Me star, 26, seems to be back with Kristen after months of estrangements after she cheated on him with her married director in Snow White And The Huntsman, Rupert Sanders.