Exclusive
Elizabeth Taylor Biopic Moved To Los Angeles To Accommodate Lindsay Lohan's Legal Woes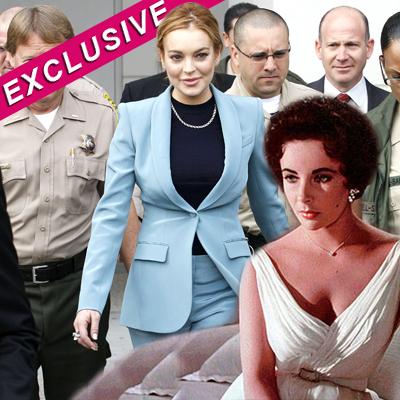 Article continues below advertisement
However, as RadarOnline.com previously reported, detectives from the Los Angeles County Sheriff's Department have recently viewed the surveillance video from the hotel on the night in question and it clearly shows Lohan at the club, despite her claims to the contrary.
Lohan told a media outlet the day that she was released from formal probation that she had secured the work permits needed in order to film in Canada. Canada has very strict laws about allowing convicted criminals who are foreigners into the country.
"The producers recognized that there could be problems stemming from the fact that Lindsay is under investigation for assault, and she is still on informal probation in her necklace theft case. It was just easier to move the shoot to Los Angeles as Lindsay lives there and relocating also gives jobs to local film crews which is always beneficial to the economy," a source close to the situation tells RadarOnline.com.
MORE ON:
Celebrity Justice
Article continues below advertisement
"I have always admired and had enormous respect for Elizabeth Taylor. She was not only an incredible actress but an amazing woman as well. I am very honored to have been asked to play this role," Lohan said in a statement on Monday.
"We are thrilled Lindsay will portray beloved Hollywood legend Elizabeth Taylor. She is one of the rare actresses who possesses the talent, beauty and intrigue to capture the spirit of such a provocative icon," Rob Sharenow, Executive Vice President of Programming for Lifetime Television added.
A spokesperson for Lifetime Television told RadarOnline.com that the network had never said the shoot would take place in Canada, but didn't offer any explanation on why Lohan had publicly said she had obtained work permits for Canada. According to the rep, the role of Richard Burton hasn't been cast yet.
Filming begins in Los Angeles in June.
RELATED STORIES:
Lindsay Lohan Looking Forward To A Drama & Criminal Free Future