Judge Tells Lindsay Lohan To Stop Nightclubbing!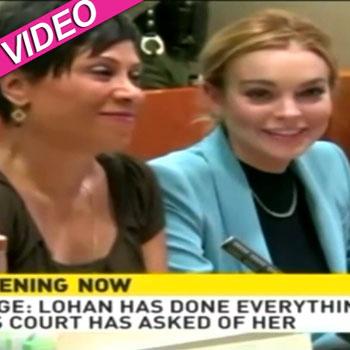 Lindsay Lohan is a free woman, sort of!
Appearing in front of Judge Stephanie Sautner with her lawyer Shawn Holley by her side Thursday morning, Lindsay looked sullen until she was told that her DUI probation was finally over — but quickly turned to scowling again when told she should stop nightclubbing!
The troubled starlet arrived at 9:45 a.m. at the Los Angeles Airport Court house in an appropriately conservative blue pants suit with a dark blouse underneath and with her new strawberry blonde hair pulled back in a bun.
Article continues below advertisement
The judge applauded Lindsay's compliance with her probation orders, telling her lawyer, "She did it," despite a question if she finished the exact amount of time she was ordered to have done.
Sautner told Lindsay that based on her Beverly Hills DUI case her "Probation terminates today. Now," and Lindsay smiled with relief.
She also said that Lindsay's formal probation stemming from her necklace theft case is now informal probation.
Judge Sautner did admonish Lindsay though, telling her "the only terms left are to obey all laws, and that's not that hard. I know it's hard when people are following you, but that's the life you chose. You know what you need to do. You need to live your life in a more mature way, stop the nightclubbing!"
The judge said "I don't expect to see you again," and a very grateful Lindsay spoke to the judge, thanking her for being "fair."
Article continues below advertisement
"I just want to say thank you for being fair, it has really opened a lot of doors for me, so thank you," Lohan said.
Lindsay completed all of her 400 hours of community service at the Los Angeles County morgue and her court mandated therapy sessions so as long as she stays out of trouble for the next two and a half years she'll be home free!
Sautner ended the court session with a fond farewell for Lindsay, telling her "Goodbye and good luck."