Exclusive
Lindsay Lohan Nearly Finished With Court Ordered Community Service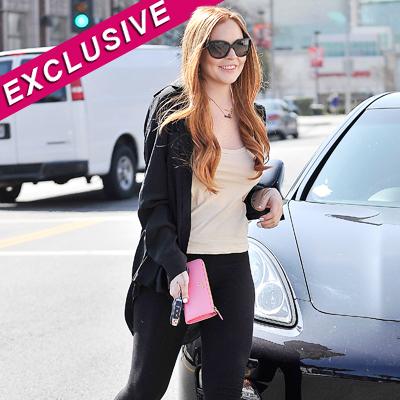 By Jen Heger - RadarOnline.com Assistant Managing Editor
Lindsay Lohan is going to finish her court ordered community service before the March 29th deadline, and she only has a few more days left of work at the Los Angeles County Morgue, RadarOnline.com is exclusively reporting.
As we previously reported, the Mean Girls star, 25, has a final progress report in connection with her necklace theft case in front of Judge Stephanie Sautner. This could be the end of Lohan's legal woes if Judge Sautner terminates her formal probation at the hearing.
Article continues below advertisement
Lohan's rep, Steve Honig, tells RadarOnline.com exclusively, "Lindsay is on track to complete her community service before the 29th." Sources close to Lilo tell us, "Linds will probably have her last day at the morgue by Tuesday, at latest, of next week. Lindsay will have all of her paperwork submitted to the judge before the progress report hearing. Lindsay is leaving nothing to chance. It will be a very emotional day for her, because she is hopeful that Judge Sautner will terminate her formal probation, meaning Lindsay will no longer have to meet with a probation officer, and will no longer have required criminal court appearances."
As RadarOnline.com previously reported, Thaer Kamal, the Hookah Store manager who claims Lindsay hit him with her Porsche as she left the Sayer nightclub, has had credibility issues because he changed his story once he allegedly found out that the driver was a celebrity. "Let's be very clear, he has changed his story significantly. Officers on the scene specifically asked the man if the car had hit him and he was absolutely emphatic that it hadn't, nor had he claimed it hit his car," a law enforcement source says. "Several hours later, the man's newly hired lawyer called the Hollywood division of the LAPD and said that his client wanted to provide a statement because he was the victim of a hit and run accident. The manager claimed that he was in shock after the accident and that his foot began hurting,and went to the hospital. He now says there is no doubt that Lindsay drove over his foot, and fled the scene."
Article continues below advertisement
LiLo has no plans on talking to cops because that are investigating the incident because, "it just isn't necessary. Lindsay's lawyer, Shawn Holley, is in touch with the investigators, but since the alleged victim has changed his story several times, the burden of proof is on him, and not Lindsay. Just because this guy is claiming Lindsay hit him, why should she have to drop everything and talk to investigators? Lindsay is focused on finishing her community service at the Los Angeles County Morgue," the insider reveals.