Exclusive
Lindsay Lohan's Alleged Hit And Run Victim Has 'Major Credibility' Issues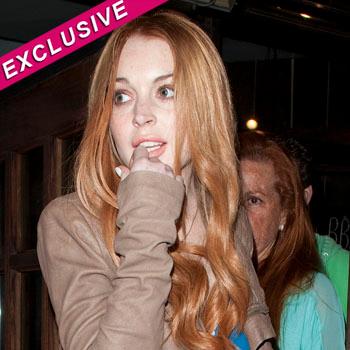 By Jen Heger - RadarOnline.com Legal Editor
The man who claims Lindsay Lohan hit him with her Porsche, injuring him, and then fleeing the scene, has told cops two very different versions of events, raising questions about the credibility of the alleged victim, RadarOnline.com is exclusively reporting.
As previously reported Lohan, 25, was leaving Sayers Club in Hollywood Wednesday at 12:20 a.m. PT in her new black Porsche when she was blocked by a swarm of paparazzi and club patrons from the nearby Hookah Lounge. As she attempted to navigate a three point turn to get out of the alley she allegedly hit the manager of the Hookah Lounge. Initially, a source close to the situation tells RadarOnline.com, the manager told cops at the scene that he wasn't hit by the car, but, after finding out that Lohan was the driver, the manager went to a hospital emergency room, lawyered up and changed his story.
Article continues below advertisement
"Let's be very clear, he has changed his story significantly. Officers on the scene specifically asked the man if the car had hit him and he was absolutely emphatic that it hadn't, nor had he claimed it hit his car," a law enforcement source says. "Several hours later, the man's newly hired lawyer called the Hollywood division of the LAPD and said that his client wanted to provide a statement because he was the victim of a hit and run accident. The manager claimed that he was in shock after the accident and that his foot began hurting, and went to the hospital. He now says there is no doubt that Lindsay drove over his foot, and fled the scene."
Meanwhile, Lohan who is currently at the morgue completing her court ordered community service, denies that she hit anyone. "Lindsay stopped by the club to drop in on a friend's birthday party. When she arrived, there were so many photographers there that she decided to leave and never even got out of the car. At no point was there ever any indication that her car hit anyone or anything. We are confident this matter will be cleared up in the next few days," Lohan's rep Steve Honig tells RadarOnline.com.
Article continues below advertisement
"Based on the timing of the events and the fact the alleged victim changed his story, it's unlikely that Lindsay will be charged with any crime. However, it's still in the early stages of the investigation and the victim is planning to sue the actress," the law enforcement source said.
The timing couldn't be worse for the actress as she is just two weeks away from being taken off formal probation from her necklace theft case.
"Lindsay is absolutely freaking out that she could be sent back to jail, which is now a very real possibility," a source close to Lohan told RadarOnline.com. "Just the accusation and the police report could trigger Judge Sautner to revoke her probation and send her back to jail. Lindsay is in serious trouble, even though the alleged victim might have changed his story. Lindsay is set to appear in front of Judge Sautner on March 29 for a final progress report. However, she might be hauled in before that date."
Article continues below advertisement