Exclusive
Lindsay Lohan's Alleged Victim Files Police Report At Hospital, Prosecutors & Probation Officer Notified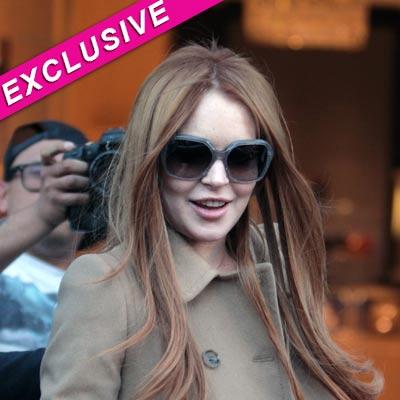 By Jen Heger - RadarOnline.com Legal Editor
The man who claims Lindsay Lohan hit him with her Porsche, injuring him, is in the process of filing a police report at an emergency room of a Los Angeles hospital, and prosecutors and probation officials handling her necklace theft case have been notified of this fact, RadarOnline.com is exclusively reporting.
As we previously reported LiLo, 25, was leaving Sayers Club in Hollywood Wednesday at 12:20 am PT in her new black Porsche when she was blocked by a swarm of paparazzi and club patrons from the nearby Hookah Lounge, officials said.
Article continues below advertisement
As Lindsay was trying to make a U-turn among the crowd at the late night hotspot, she nearly hit the car of the Hookah Lounge's manager, police said. When he got out of his car to warn her of the near-hit, she reportedly grazed his knee and sped off. One of the manager's employees called police to report a "traffic collision," according to the LAPD Hollywood Division.
Police responded to the scene to investigate if a hit-and-run had taken place or if anyone was injured; authorities told RadarOnline.com that when officers arrived, they interviewed people on the scene, including the manager of the Hookah Lounge.
"There was no evidence of a crime or a hit and run," a police spokesperson told us. "There was no evidence of a crime."
However, the manager subsequently went to the hospital and is planning on pressing charges against the actress, after he found out who the driver of the car was the infamous wayward actress.
"The manager is claiming that he is having trouble walking, and that Lindsay ran over his foot. The alleged victim is in the process of filing a police report, and there are two uniformed LAPD cops at his bedside, and he is in the process of relaying his version of events. Lindsay's probation officer, and the two prosecutors handling her theft case have been notified that Lindsay is being accused of hit-and-run, which would be a misdemeanor if she is charged," the source says.
Article continues below advertisement
The timing couldn't be worse for the actress as she is just two weeks away from being taken off formal probation from her necklace theft case. "Lindsay is absolutely freaking out that she could be sent back to jail, which is now a very real possibility. Just the accusation, and the police report could trigger Judge Stephanie Sautner to revoke her probation, and send her to jail. Lindsay is in serious trouble, even though the alleged victim might have changed his story. Lindsay is set to appear in front of Judge Stephanie Sautner on Thursday, March 29 for a final progress report. However, she might be hauled in before that date," the insider says.
Lohan recently told Matt Lauer during an interview on Today that she never went out to clubs anymore, and was content to stay home.
"That's not my thing anymore. I went out, actually, a few months ago with a friend. And I was so uncomfortable. Not because I felt tempted, just because it was just the same thing that it always was before. And it just wasn't fun for me. I've become more of a homebody. And I like that," LiLo said.