Anne Hathaway On Her 'Lindsay Lohan' Bad Girl Days: 'I Wasted Time Doing Self-Destructive Things'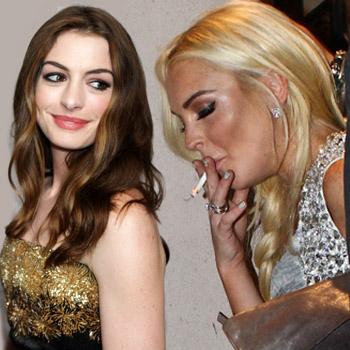 Anne Hathaway wants you to know that she has more in common with Lindsay Lohan than meets the eye!
The family-friendly actress has a squeaky clean reputation in Hollywood – minus the scandal surrounding her fraudulent ex-boyfriend Raffaello Follieri, who is currently serving 4 1/2 years in prison – but the celebrated thespian reveals in a new interview that she is no saint.
"Thanks to Mom, I never sit in judgment," she explains in an interview with The Sun about what her mother taught her. "Lindsay Lohan and I have more in common than people think. We've all done things we shouldn't."
Article continues below advertisement
The 29-year-old, who rose to fame in 2001's The Princess Diaries, explains that, unlike Lohan though, she got through her "bad girl" stage without anyone knowing about it.
"It is just that I did stuff at college when nobody knew about it, so I'm not a saint. I wasted time doing self-destructive things."
"I found out you can only dance on so many table tops. I got all that out of my system and I am healthy and grounded."