Exclusive
EXCLUSIVE: Anne Hathaway's Ex Watched Oscars From Behind Bars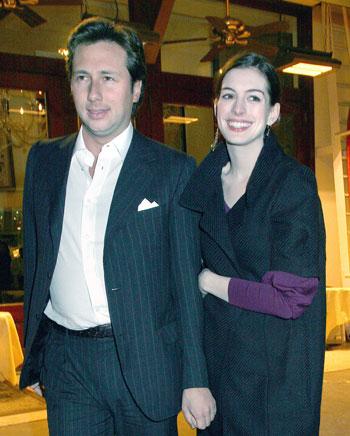 Anne Hathaway's shamed ex-boyfriend Raffaello Follieri watched her debut Oscar hosting performance from behind bars, RadarOnline.com has learned.
While almost one billion people from around the world watched Hathaway and James Franco host this year's awards from the comfort of their own homes Follieri was caged inside Loretto's Federal Correctional Institute in Pennsylvania.
Conman Follieri was sentenced to four and a half years in prison in October, 2008, after he pleaded guilty to 14 counts of wire fraud, money laundering and conspiracy, involving the Vatican.
Article continues below advertisement
A prison source told RadarOnline.com: "He had the ability to watch the Oscars although the televisions are not allowed on late at night.
"Follieri has been keeping a pretty low profile and has not been in any trouble – if all goes well for him he will be released in May of next year."
The harsh prison life of the rural prison in Western Pennsylvania is in stark contrast to the lavish lifestyle Follieri once enjoyed with The Devil Wears Prada star Hathaway.
The actress dumped the Italian businessman in June, 2008, just before his arrest for the scam, which saw him take more than $3.6 million from investment funds and real estate firms.
During their time together he lavished the A-list actress with beautiful gifts.
Following his sentencing, prosecutors in the case gave Hathaway the chance to put in an ownership bid on the items, which included Rolex watches, a five-strand pearl necklace, two rings and a Louis Vuitton box.
Article continues below advertisement
But Hathaway refused to accept the jewelry and it went to auction instead - the money raised from the auction went towards paying back those investors duped by Follieri.
In papers filed by the U.S. Attorney's Office Follieri was accused of lying to investors by claiming to be the CFO of the Vatican and using swindled funds for a trip to the Dominican Republic over New Year's 2005-06 with his 'then girlfriend' Hathaway and another couple.
According to the complaint the conman used the funds for his $37,000-a month- New York apartment rent, medical bills for himself and Hathaway, as well as for orthodontist bills for his father.
Follieri and Hathaway, 25, dated for four years – she famously poked fun at the incident when she hosted Saturday Night Life saying: "I broke up with my boyfriend, and two weeks later he was sent to prison for fraud. I mean, we've all been there, right, ladies?"