Lindsay Lohan Jokes Of 'Stealing' The Media's Attention In New SNL Spot With Kenan Thompson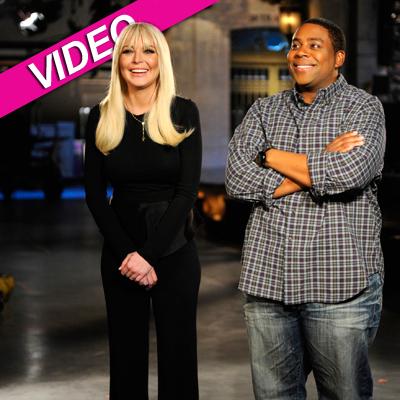 Lindsay Lohan pokes fun at herself -- namely, all of the media attention she "steals" -- in a preview for this week's Saturday Night Live, which she'll be hosting this weekend.
In the promo, alongside SNL funnyman Kenan Thompson, a blonde LiLo plugs her fourth time hosting the New York-based institution, joking about the years and years of tabloid coverage she's received for her misadventures.
Article continues below advertisement
In one instance, Thompson asked her if she'd been stealing his lunches, a sly reference to her jewelry fiasco of yesteryear.
"People are probably wondering what I've been up to," she joked, adding it's a shame magazines and website haven't documented her life more closely.
"America could use more information about me," Lohan said, "and even a picture or two!"
In another spot, Thompson plays on another pop culture phenom (New York Knicks basketball star Jeremy Lin), announcing, "It's time for Lin-sanity!"
As we previously reported, the Mean Girls star also promotes the appearance with an interview with The Today Show's Matt Lauer Thursday, in which she says she'll need to restore reputation her about rebuilding her career.
"I still need to go through the process of proving myself," she tells Lauer in the appearance, which will air Thursday. "You know, with SNL, being on time, being, you know, keeping my -- can't say the word -- but stuff together."
Article continues below advertisement
Asked about partying, she told Lauer, "That's not my thing anymore ... I went out, actually, a few months ago with a friend. And I was so uncomfortable. Not because I felt tempted, just because it was just the same thing that it always was before.
"And it just wasn't fun for me. I've become more of a homebody, and I like that."
Looks for LiLo on this weekend's Saturday Night Live, and stay with RadarOnline.com for more Lindsay news as it breaks.