Lindsay Lohan: 'Partying Not My Thing; I've Become More Of A Homebody'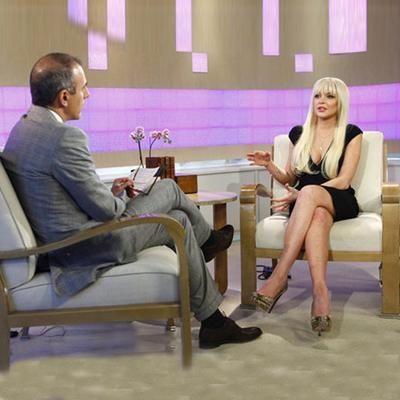 The Lindsay Lohan redemption tour is in full swing, and before the actress hosts this week's Saturday Night Live, she stopped by The Today Show and spoke with Matt Lauer about rebuilding her career, starting with trying to erase her tarnished reputation as Hollywood's foremost wild child.
"I still need to go through the process of proving myself," the Mean Girls star,25, tells Lauer in the appearance, which will air Thursday. "You know, with SNL, being on time, being, you know, keeping my -- can't say the word -- but stuff together."
Article continues below advertisement
As for the the million dollar question: Is Lindsay still partying?
"That's not my thing anymore," she tells Lauer. "I went out, actually, a few months ago with a friend. And I was so uncomfortable. Not because I felt tempted, just because it was just the same thing that it always was before. And it just wasn't fun for me. I've become more of a homebody, and I like that."
Lucky for Lindsay, at a hearing last week, Superior Court Judge Stephanie Sautner gave her a positive report, telling her she seems "to be getting her life back on track."
Looks for LiLo on this weekend's Saturday Night Live, and stay with RadarOnline.com for more Lindsay news as it breaks.
Watch Lindsay host SNL on May 1,2004 – the first ever 'Debbie Downer' skit