Lindsay Lohan: 'I Am Clean And Sober"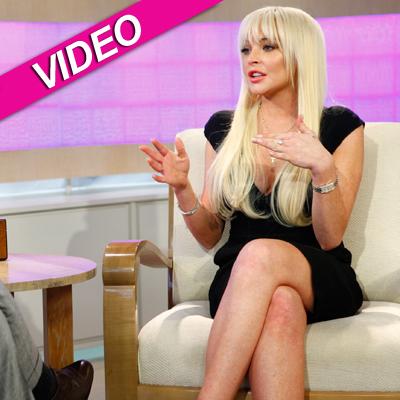 By Neil Woulfe - RadarOnline.com Senior News Director
Lindsay Lohan says she's reformed.
In an exclusive interview taped Tuesday, but airing on Thursday's TODAY, the often troubled actress, 25, tells Matt Lauer that she's "clean and sober" and that "it's been a while. It's been a long time."
The Mean Girls star said it's "nice to have people in her life in the same position" and says while she could hit the Hollywood party scene, she's avoiding it.
Article continues below advertisement
"That's not my thing anymore. I went out, actually, a few months ago with a friend. And I was so uncomfortable. Not because I felt tempted, just because it was just the same thing that it always was before. And it just wasn't fun for me. I've become more of a homebody. And I like that."
When Lauer asked Lohan if the untimely death of Whitney Houston registered with her on a personal level, she paused several seconds before answering.
"Not really. That's kind of a scary, morbid thing to discuss," Lohan said.
Lohan -- who said that her repeated jail stints "terrified" her -- did admit that one can "fall into that world" of substance abuse that steals talent. "I've experienced things like that. It's a really sad factor that can come into play in people's lives sometimes if you don't recognize it. And a lot of people don't like to, and I think I did that for a long time. I think I was scared and didn't want to admit it to myself, let alone anyone else."
Article continues below advertisement
Lohan is currently mounting a comeback. This weekend, she will host Saturday Night Live -- her fourth stint as host.
As RadarOnline.com showed you, in a series of commercials to promote her SNL gig, she pokes fun at her past legal troubles and even jokes of "stealing" the media's attention.
She's also said to be impressing SNL's cast and crew with her professionalism, as we previously reported.
"Do you think people have gotten back, or can get back to the point where they trust you?" Lauer asked her. "In other words, professional people? You know, if they say to you, 'Come host 'Saturday Night Live',' that's a big commitment. And do you think the producers and directors of movies and television projects are going to get back to the part where they can go, 'You know what? Yeah, we can count on Lindsay. We can bank on her?'"
"I think that that's gonna take -- I think that takes time," Lohan responded. "And I think that it's actions. Because people can say things all they want, but I think I still need to go through the process of proving myself, you know, with 'SNL,' being on time, being, you know, keeping my -- can't say the word -- but stuff together."
Lohan -- who recently landed the coveted role of playing Elizabeth Taylor for a television movie -- gave an update on the much anticipated bio-pic for Lifetime.
Article continues below advertisement
"We're in the middle of casting and figuring -- we start production soon," Lohan said. "I've been doing tons of research. But I've always kind of researched her. She's always been a fascinating woman to me. So I'm really honored. And I will not let anyone down, especially myself."
Lohan admitted that she does understands how it might be risky for studios to invest in her, given her troubled past.
"I don't want people to have that reason to be scared anymore. So being able to have this opportunity with 'SNL' and the film, I'm gonna do what I'm supposed to do, and enjoy doing it, and do it as best as I can."
Meanwhile, Lohan -- who received a glowing report at her last probation hearing on February 22 related to her shoplifting conviction -- only has one more court appearance left.
Visit msnbc.com for breaking news, world news, and news about the economy