Exclusive
Lindsay Lohan Won't Let Her Legal Woes Prevent Filming Liz Taylor Movie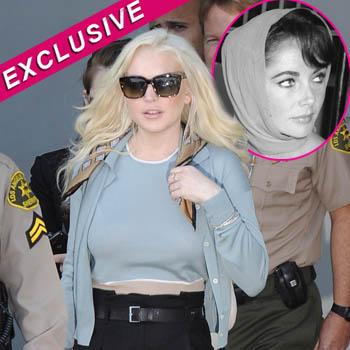 By Jen Heger - RadarOnline.com Legal Editor
Lindsay Lohan isn't going to let Canada's strict policy of non-citizens convicted of crimes deter her plans from filming the Elizabeth Taylor Lifetime TV movie in the Maple State, and her lawyer is already working fastidiously to ensure that when the actress formally accepts the role in the next week, the actress will be allowed entry into the country, RadarOnline.com is exclusively reporting.
Article continues below advertisement
Canada, Japan, and the United Kingdom are among countries that don't allow foreigners who have committed crimes as minor as DUI and drug offenses into their pristine land.
Paris Hilton was detained by Japanese immigration officials and not allowed in the country because of her cocaine possession charge in Las Vegas. Hilty didn't provide the proper paperwork in a timely manner and was put on a plane back to the U.S.
Lohan, already has the script for the Lifetime Elizabeth Taylor TV movie, and has been working on memorizing her lines, even though she hasn't officially signed the contract. Lilo's powerhouse attorney, Shawn Holley, is already gathering all the paperwork necessary to give to Canadian officials to show that the actress is in good standing with all terms of her probation.
"Lindsay is beyond excited for this role, and she is working with her lawyer to make sure that Canada will allow her into the country," a source close to the actress tells RadarOnline.com. "Lindsay has offered to go to the Canadian consulate, which is in downtown Los Angeles for an interview with government officials. She will probably need to do this once she formally signs the deal. Lindsay's DUI arrests were in 2007, and was convicted of her misdemeanor theft in 2011. Lindsay's pro-active involvement with any possible problems she might have getting into Canada because of her past, has tremendously impressed the producers."
Article continues below advertisement
Media reports have speculated that Lohan won't be allowed to enter Canada because of her prior convictions. Our sources tell us that isn't true. "Lindsay will have to jump through some hoops to make it happen, but Canadian officials will allow her to obtain a work visa once she goes through the process. Problems have arisen for celebrities with criminal records when they are at the airport in Canada and haven't even thought their past convictions would prohibit them from entering the country. Team Lohan will make sure all the 'I's' are dotted and 'T's' are crossed, period," the insider states.
PHOTO: LiLo Attends Jay-Z Concert Night Before Court
As RadarOnline.com previously reported, Lohan got accolades from Judge Stephanie Sautner at her progress report hearing Tuesday. "She has done it all on schedule," Judge Sautner said during the proceedings. "Just keep doing what you are doing, probation officer has written a favorable report, we will see you back here on February 22, and you need to complete 15 days of community service and 5 therapy sessions by that time."