Exclusive
Lindsay Lohan Will Receive Another Glowing Probation Report, Almost Completed Requirements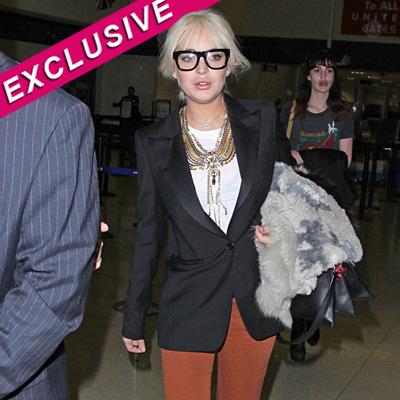 By Jen Heger - Radar Legal Editor
Lindsay Lohan will be in court next Tuesday for another probation progress hearing in her misdemeanor theft case, and RadarOnline.com has exclusively learned that the actress will receive another glowing report.
The Mean Girls star, 25, has completed 15 days of court ordered community service at the Los Angeles County Morgue, and 5 therapy sessions, as part of her probation requirements stemming from her no contest plea in a necklace theft case. "Lindsay is on track and doing very well in fulfilling all terms of her probation, and completing her service at the morgue, and her therapy. She is focused, and committed to putting this part of her life behind her," a source close to the actress tells RadarOnline.com.
Article continues below advertisement
PHOTO: LiLo Attends Jay-Z Concert Night Before Court
Judge Stephanie Sautner has kept a very tight leash on Lindsay's probation and implemented a very disciplined schedule for completing her probation requirements. After next Tuesday's progress report hearing, Lindsay will be required to complete 17 days of community service at the morgue, and 4 therapy sessions by March 29. At that point, if Lindsay is successful, she will officially be taken off formal probation, which means no more required meetings with her probation officer, and no more court appearances. Lindsay will simply be required to abide by all laws while she remains on probation for another two years.
This would be a huge accomplishment for the actress, as it would be the first time in over five years that she hasn't been on formal probation, and wouldn't have any probation requirements, other than obeying the law. "Lindsay is counting down the days until she is off formal probation. She is trying to get the community service done ahead of time. She knows the sooner she gets the work done then she will be a free woman. She just wants to get back to work in front of the camera," the insider says.
Article continues below advertisement