Lindsay Lohan Sentenced To 30 Days In Jail; Faces More Time If She Keeps Messing Up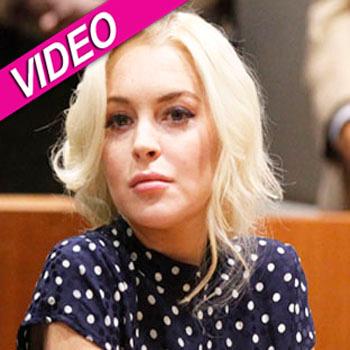 By Amber Goodhand - Radar Reporter
Lindsay Lohan must report to the county jail by November 9th to serve 30-days behind bars, RadarOnline.com has learned.
Los Angeles Judge Stephanie Sautner made the ruling on Wednesday after determining that the Mean Girls star violated the terms of her probation stemming from her shoplifting conviction.
Prior to the judge making her ruling, Lohan -- wearing a polka dot dress with her hair pulled back in court -- admitted in court that she did in fact violate the terms of her probation.
Article continues below advertisement
According to the prosecution, Lohan canceled 14 of her 19 scheduled psychotherapy appointments and three of the five she attended were cut short because of "other engagements she needed to attend to."
"Miss Lohan was in charge of making her own schedule at the Downtown Women's Center," the prosecutor said, and noted that of the 20 scheduled sessions she had at the Downtown Women's Center, she canceled 12 of them.
The judge noted that Lohan's attorney Shawn Holley made a plea for the court not to send Lindsay back to jail; however, Judge Sautner decided in favor of jail time.
"Miss Lohan is going to wave her right to the hearing and admit her violation," her attorney Holley said.
"Do you admit that you violated probation?" Judge Sautner asked Lohan.
"Yes, Your Honor," Lohan replied.
"The sentence I'm going to impose is called putting the keys to the jail in the defendant's hands," the judge explained, noting that Lohan could choose not to accept the offer and instead just serve all of her jail time.
Article continues below advertisement
Judge Sautner sentenced the actress to 300 days in the county jail. However, the judge stayed most of that time – but said Lindsay must serve 30 days behind bars.
PHOTO: LiLo Takes A Smoke Break At The Morgue
The judge said she must surrender by November 9th in person to the women's jail and also said she was not eligible for house arrest or electronic monitoring or any other early release.
When she gets out of jail, the judge told Lindsay she must report on the next business day to the probation department.
As for the remainder of her community service time, Sautner said, ""The Downtown Women's Center is willing to take you back, I'm not going to put them through that again."
The judge said she tried to get Lohan into The Good Shepherd Women's Shelter but explained, "They don't want you because they say you set a bad example for the women trying to get their lives in order."
Ouch!
"The morgue is willing to keep you. I'm going to revert all of your community service to the morgue," the judge said. So, Lohan is to serve all of her time in the county morgue — with a strict timeline set forth by Judge Sautner.
Article continues below advertisement
Lohan must return to court on December 14 for a progress report, and she must have completed 12 days of community at the county morgue and attend four psychological therapy sessions of 45 minutes each by then.
If she is found to in compliance before her next hearing, the 270 remaining days on her sentence will be stayed until January 17th.
Sautner also told Lohan that "Ms. Parker asked not to be your probation officer anymore" and that Ms. Mansfield will be taking over and that "Ms. Mansfield is no nonsense."
By her January 17 hearing she is to have again performed 12 more days at the morgue and four more psychotherapy sessions. The timeline is repeated until February 15, and then between February 15 and March 29 Lohan is to complete 17 days at the morgue and six psychotherapy sessions.
"Then you will have completed everything the court ordered and if you do that the jail time will be permanently stayed," Sautner explained.
Article continues below advertisement
If she's found not to be in compliance, she will then have to serve the remaining days of her sentence.
At one point during the hearing, Judge Sautner said the morgue had a problem with Lohan posting messages on her Twitter account about them saying, "I can't order you to stop Tweeting but I've told them to stop holding press conferences, and I'm suggesting you don't Tweet about them."
The prosecution also noted that the Downtown Women's Center incurred an expense of $112 for extra security while Lohan was serving community service with them and asked that she pay the fee.
"I don't feel I can impose it," the judge said, but Lohan agreed to pay the fee anyways "out of the kindness of her heart."
The judge said she can't leave the country or state without approval.
Melanie Chavira of the City Attorney Office tells RadarOnline.com, "Ms. Lohan will probably serve a maximum of 15 days behind bars."
Watch Lindsay's reaction to Judge Sautner's sentence below:
radar_embed service=5min.com src=" http://pshared.5min.com/Scripts/PlayerSeed.js?sid=1126&width=486&height=412&playList=517713288&sequential=1&shuffle=0"