Exclusive
EXCLUSIVE: Surveillance Video Shows Lindsay Lohan Taking Necklace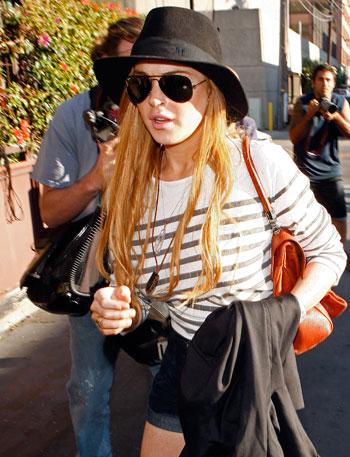 Lindsay Lohan is caught on store surveillance video wearing the $2,500 necklace she is accused of stealing, according to a law enforcement source who has intimate knowledge the case.
"The surveillance video clearly shows Lindsay Lohan taking the necklace from the store," the insider told RadarOnline.com exclusively.
"Law enforcement believe the video will prove that the actress took the necklace, because it doesn't, any any point, show her paying for the item.
Article continues below advertisement
"It's the strongest evidence authorities have against the actress... if the video didn't exist, she wouldn't be in this precarious situation."
The cost of the necklace would make the alleged crime a felony — grand theft — because the item in question is valued at over $900.
As we first reported, the Lohan patriarch leapt to the defense of his daughter, denying any wrong doing on her behalf.
As part of the investigation which is now in the hands of the Los Angeles District Attorney's Office, detectives obtained a warrant to search Lohan's Venice residence, where she's been living since she left the Betty Ford Clinic in January.
After detectives began preparing to execute the search warrant, a friend of Lohan's brought the necklace to the Pacific Division police station.
The jewelry store owner's husband, Jeff Kamar, confirmed to RadarOnline.com that Lohan was in possession of a high-end necklace saying, "It's short, it's not the longer one it's the shorter one. It's a one-of-a-kind."
Our source said: "This doesn't appear to be a miscommunication between two people, as Lindsay is claiming. Lindsay says she borrowed the necklace, the evidence just doesn't support Lindsay's story."
Article continues below advertisement
Lohan is still on probation and is facing possible criminal charges after a violent incident with a former Betty Ford worker on December 12.
If she is found in a violation of her probation, the Mean Girls star could be jailed.
Sandi Gibbons, Spokesperson for the DA tells RadarOnline.com: "The Los Angeles Police Department presented evidence to us about mid-day today. We are reviewing the evidence, but nothing will be determined today."
Exactly one month ago Wednesday, Lohan was released from the clinic in Rancho Mirage, California, after a 90-day stay in rehab.
She served the court-imposed stint in connection with her 2007 DUI conviction, as her repeated failures to meet the terms of her probation caused her to serve two stints in rehab -- and two in jail -- last year.
RELATED STORIES: