Exclusive
Lindsay Lohan's Probation Report Is 'Glowing'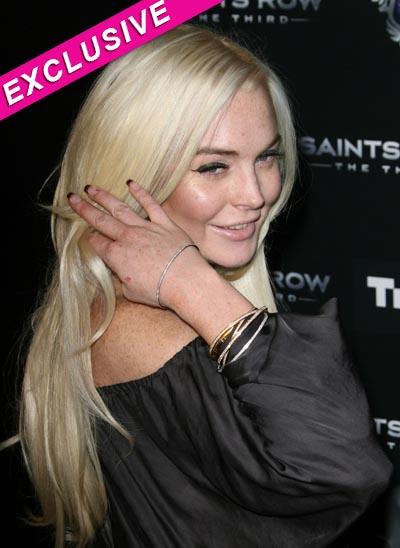 By Jen Heger - RadarOnline.com Legal Editor
Lindsay Lohan will be in court on Wednesday for a progress hearing in her theft case, and the Playboy hottie will have a glowing probation report, RadarOnline.com is exclusively reporting.
So, could legal woes be a thing of the past for the Mean Girls star? According to our well place sources, the answer is, yes....hopefully!
"Judge Sautner gave Lindsay a new probation officer at her last court appearance. Her new probation officer is absolutely no nonsense, and she has seen it all. Lindsay has been a model probationer so far," a source close to the actress tells RadarOnline.com.
Article continues below advertisement
"Lindsay has made scheduled meetings with her probation officer, has completed her court ordered community service requirement of 12 days by the progress report hearing, and attended all her psychological counseling sessions. Lindsay has actually completed more than the basic requirement of 12 days, and she is ahead of schedule to finish her duties at the morgue by March 29, 2012."
As RadarOnline.com previously reported, Lohan, 25, served approximately 4 1/2 hours of a 30 day sentence for violating terms of her probation because she failed to show on multiple occasions at the Downtown Women's Center. Judge Sautner had ordered LiLo to perform the community service at a downtown women's shelter after pleading no contest in her theft case. Because of rampant jail overcrowding in Los Angeles County, Lohan only had to serve a fraction of her sentence.
Judge Sautner formally sentenced Lindsay at the last progress report hearing on November 2 to complete 53 days of community service at the Los Angeles County Coroner's Office, and attend 18 psychotherapy sessions.
Saunter is keeping Lindsay on a very tight leash, ordering her to complete a certain number of hours for community service, and psychotherapy sessions - monthly until March 29, 2012. Failure to do so would result in an automatic 270 day jail sentence, which the judge suspended, pending successful completion of her terms.
Article continues below advertisement
"Lindsay calls her probation officer back immediately whenever she calls her, if she doesn't answer the phone. Lindsay has really stepped up and accepted responsibility for her actions," the source says. "Lindsay is well liked at the coroner's office, and she does whatever she is assigned to do, without complaining. For the first time in a very long time in Lindsay's life, she is treated just like everyone else, which is exactly what she needs. She isn't given any special perks nor has she asked for any.
"It's actually much more productive for Lindsay to be doing manual labor at the morgue, where they have suffered from budget cutbacks. If she were in jail, she would be in a cell for 23 of 24 hours a day, except for visits with her lawyer, or family. Lindsay couldn't do janitorial work at jail because of the notoriety surrounding her, and it wouldn't be safe for her or the other inmates."
Meanwhile, the probation report will "recommend that Lindsay be allowed to remain on probation, because she is in compliance," the pal says.