Lindsay Lohan Non-Nude Playboy Pic Released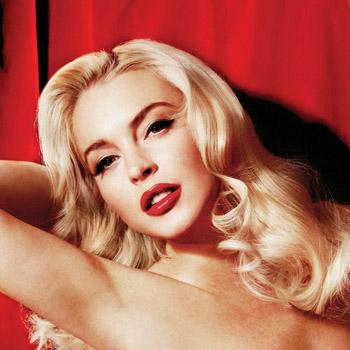 By Alexis Tereszcuk - Radar Senior Reporter
Lindsay Lohan's nude pictorial in Playboy is set to hit newsstands at the end of the week, but in the meantime the venerated men's magazine released a non-nude picture of the troubled starlet in her Marilyn Monroe homage.
With all of her tattoos airbrushed out, Lindsay provocatively channels the former screen siren in the sexy shot.
As RadarOnline.com previously reported, all of the nude pics of Lindsay were leaked on the internet on Friday, a full week in advance of the magazine hitting newsstands.
Article continues below advertisement
In addition to posing for photos, the troubled starlet also gave an interview to Hugh Hefner's mag dishing on her sex life.
"Sex and sexuality are a part of nature, and I go along with nature," Linds said.
"I think Marilyn Monroe once said that. I certainly agree with her…Knowing yourself and your body is so important because it gives you confidence, and in life, women need confidence. It's a very male-dominated world to begin with, so knowing yourself and being comfortable with your body is an important thing for me as a woman.
"Everyone is entitled to their opinion, but this is mine."
The 25-year-old is currently hard at work in Hawaii.
As RadarOnline.com reported, Lindsay was invited to attend the Pipeline Masters surfing competition where her friend Andy Irons was being honored. Irons was a legendary pro surfer who died of a drug overdose last year.
Lindsay is expected back from Hawaii on Monday and has to return to court for a probation hearing in Los Angeles this week.