Lindsay Lohan Gets Stylish For Meeting With Probation Officer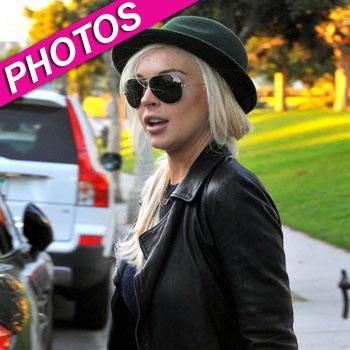 By Jen Heger - Radar Legal Editor
Lindsay Lohan met with her probation officer in Santa Monica Wednesday, in advance of her December 14 progress hearing in front of Judge Stephanie Sautner.
Dressed stylishly in black, from her hat to her boots, Lohan was in full make-up and wore trendy large sunglasses.
She seemed to be in a great mood, and smiled at and waved to the Sheriff's Department deputies who escorted her out of the building.
Article continues below advertisement
Lilo was sentenced to 30 days in jail for violating the terms of her probation in connection with her misdemeanor theft case, but the actress only spent 4.5 hours behind bars because of jail overcrowding.
Judge Sautner ordered the Mean Girls star to complete 12 days of community service at the Los Angeles County Morgue, and four psychological sessions, by December 14. If Lindsay fails to do so, Sautner will send her to jail.
Lindsay is still on formal probation, and must check in with her probation officer routinely, and this was a scheduled meeting.
"Lindsay is on track to complete her court ordered community service ahead of schedule," a source close to Lindsay tells us.
If Lindsay completes all terms of her formal probation, she will then simply be placed on summary probation, which means she just has to obey all laws. Lilo would no longer have to meet with her probation officer.
Article continues below advertisement
PHOTO: LiLo Takin' Care Of Business
On December 15, 2011, Lohan's Playboy magazine hits newsstands, and she will appear on The Ellen DeGeneres Show.
As RadarOnline.com previously reported, the cover of Playboy, which Lindsay appears on, was leaked online Wednesday.
Lilo is featured on the January/February cover of Playboy, sitting on a chair, with Bunny ears covering her body, but her legs are spread wide open.