Lindsay Lohan Not In Trouble For Grazing Man's Knee While Leaving Club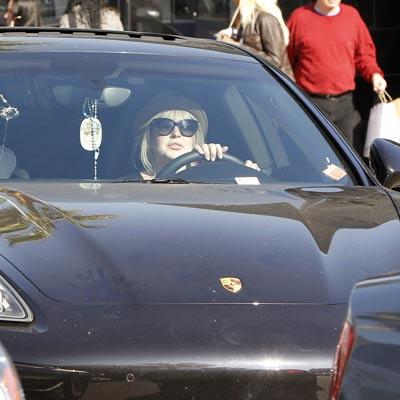 Lindsay Lohan is not in trouble with police after grazing a man's knee with her car while leaving a Hollywood nightclub early Wednesday, RadarOnline.com is reporting.
LiLo, 25, was leaving Sayers Club in Hollywood Wednesday at 12:20 am PT in her new black Porsche, when she was blocked by a horde of paparazzi and club patrons from the nearby Hookah Lounge, officials said.
As Lindsay was trying to make a U-turn among the crowd at the late night hotspot, she nearly hit the car of the Hookah Lounge's manager, police said. When he got out of his car to warn her of the near-hit, she reportedly grazed his knee and sped off. One of the manager's employees called police to report a "traffic collision," according to the LAPD Hollywood Division.
Article continues below advertisement
Police responded to the scene to investigate if a hit-and-run had taken place or if anyone was injured; authorities told RadarOnline.com that when officers arrived, they interviewed people on the scene, including the manager of the Hookah Lounge.
"There was no evidence of a crime or a hit and run," a police spokesperson told us. "There was no evidence of a crime."
Authorities say paparazzi identified the driver as being the Mean Girls star, but since no crime, injuries or damages occurred, they have no intention of speaking to her about the incident.
MORE ON:
Celebrity Justice