Exclusive
Lindsay Lohan Has No Plans To Talk To Cops About Alleged Hit & Run Investigation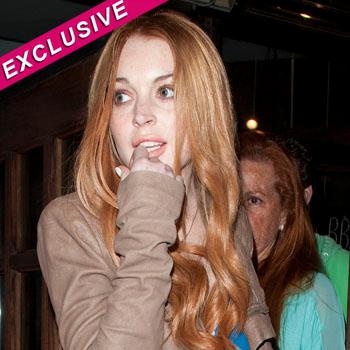 By Jen Heger - Assistant Managing Editor of Radar
Lindsay Lohan has no plans to talk to cops about allegations that she hit a person while leaving a Hollywood nightclub last week, RadarOnline.com is exclusively reporting.
As we previously reported Lohan, 25, was leaving Sayers Club in Hollywood shortly after midnight last Wednesday in her new black Porsche when she was blocked by a swarm of paparazzi and club patrons from the nearby Hookah Lounge.
Article continues below advertisement
As she attempted to navigate a three point turn to get out of the alley, she allegedly grazed the manager of the Hookah Lounge. Initially, a source close to the situation told RadarOnline.com, the manager told cops at the scene that he wasn't hit by the car, but after finding out that Lohan was the driver, the manager went to a hospital emergency room, lawyered up, and changed his story.
"Lindsay has no plans to talk to the cops because it just isn't necessary. Lindsay's lawyer, Shawn Holley, is in touch with the investigators, but since the alleged victim has changed his story several times, the burden of proof is on him, and not Lindsay. Just because this guy is claiming Lindsay hit him, why should she have to drop everything and talk to investigators? Lindsay is focused on finishing her community service at the Los Angeles County Morgue," a source close to the situation tells us.
The Hookah manger's credibility is already under scrutiny because he has changed his story several times. "Let's be very clear, he has changed his story significantly. Officers on the scene specifically asked the man if the car had hit him and he was absolutely emphatic that it hadn't, nor had he claimed it hit his car," a law enforcement source told RadarOnline.com. "Several hours later, the man's newly hired lawyer called the Hollywood division of the LAPD and said that his client wanted to provide a statement because he was the victim of a hit and run accident. The manager claimed that he was in shock after the accident and that his foot began hurting and he went to the hospital. He now says there is no doubt that Lindsay drove over his foot and fled the scene."
MORE ON:
Celebrity Justice
Article continues below advertisement
The manager has been warned by Lindsay's camp that if he files a lawsuit against her, she will counter-sue. "Lindsay won't be taken advantage of by this opportunist, which he clearly is. Lindsay has told her attorney, Shawn Holley, to convey to the Hookah manager's lawyer that if he files a lawsuit against her Lindsay will come back at him with everything she has," a source close to the situation tells us. "Lindsay will immediately file a counter-suit against him, for libel, defamation, and other claims. Lindsay is in the midst of a comeback right now, and she won't let this guy try and make a quick buck off of her. If he is smart he should recognize that he has no facts to support his allegations and take this no further."
Meanwhile, Lindsay vehemently denies hitting the man, and declared on her Twitter account, "Scrape? This is all a complete lie. I've been at community service. Last night, I attempted to wish a friend happy birthday, which I didn't even get to do because I was freaked out by all of the paparazzi. These false accusations are absurd."
The Mean Girls star will have her final progress report hearing on Thursday, March 29 and if she successfully completes the remainder of her court ordered community service and therapy sessions, she will be off formal probation.