Exclusive
Daddy Defense! Michael Lohan Slams 'Dirtball' Porn Star's Lindsay Sex Story!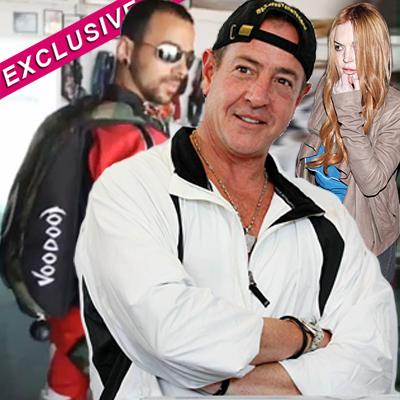 Article continues below advertisement
"This delusional moron wishes he had a nanosecond alone with Lindsay!" Lohan charged. "If I ever caught a guy having sex with my daughter in my house I'd be in jail the rest of my life, especially a dirtball porn star.
"I'm a light sleeper. I would never be asleep while my kids were in the house and awake.
"Another worm crawling out of the woodwork trying to get some publicity. But this time, it's a person that doesn't even have respect for himself, never mind Lindsay or anyone else. To begin with, not at ANY time that I was with my family or Lindsay at our home, or anywhere, did I go to sleep before my children did.
"Or allow any man/male and especially a sleazebag, alone with Lindsay. Can you imagine ME, Michael Lohan, of all fathers, allowing my daughter(s) to be alone with any guy while I was present? Ha ha!
"And if, by chance, a dirtball like Voodoo, snuck in, he wouldn't have made it out. Last but not least, Lindsay would NEVER stoop to the level of this neophyte. (The lowest form of living organism on earth).
Article continues below advertisement
"Sad, very sad. I pity him."
Voodoo went on The Jim Richards Show on Newstalk 1010 in Toronto on Friday when he dished the details of his A-list romp.
"Ask him Michael Lohan if he knows about that night I had with his daughter while he was sleeping upstairs," Voodoo said. "I'm not joking!"
Not only did Voodoo claim to have had "relations" with Lindsay, but he made it sound like she paid him.
"Many of these Hollywood celebrities pay me a high price dollar to come and satisfy them. I'm not joking!" he said.
Lindsay Lohan's Alleged Hit And Run Victim Has 'Major Credibility' Issues