Exclusive
Lindsay Lohan Hit & Run Accuser Meets With Cops: Surveillance Video Turned Over!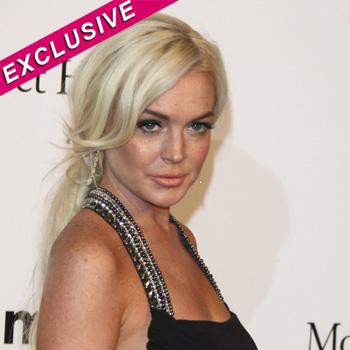 Article continues below advertisement
Kamal was interviewed by investigators from the LAPD for more than an hour, and his attorney, Mark Geragos, was present.
"Thaer gave an honest and accurate account of what happened to him that night," a source close to the situation tells RadarOnline.com. "He wants Lindsay to be held accountable for her actions. She shouldn't have driven away after hitting him, period. He doesn't want her to get away with it. Thaer feels that Lindsay's camp has bullied him by making up stories that he was being investigated for insurance fraud. He was steadfast in his conviction that he has never committed any crime, and hasn't been investigated ever for fraud. Thaer is fearful for his family back in Iraq, he has done nothing wrong, he didn't break any laws. He served with the United States Army for six years and seven months, and has a spotless record. He obeys all laws, and he wonders why Lindsay doesn't."
As RadarOnline.com previously reported, media reports circulated last week that Kamal was being investigated for insurance fraud in eight different cases for staging fake car accidents and filing bogus claims.
"Let's be very clear about this, Thaer Kamal has never been investigated for insurance fraud, fraud, staging car accidents or anything even remotely related to any illegal criminal behavior," a source close to the situation told RadarOnline.com. "Thaer doesn't have a criminal record, has never been arrested and this is the first time he has ever filed a claim with his insurance company. Thaer is disgusted that these false reports have been made."
Article continues below advertisement
Kamal's attorney is looking into who has been slandering their client. "Mark will be investigating who made those false statements about Thaer being the focus of insurance fraud investigations and will take the appropriate legal action against those responsible for the false and defamatory comments if necessary," the insider said.
Geragos turned over the surveillance video that captured the alleged hit and run, as well as Thaer's medical records. "The detectives were very receptive and interested in Kamal's statement. It was done professionally, and away from prying eyes so that Thaer can try and maintain some sort of privacy because of security concerns for his family in Iraq," the source says.
Lindsay is scheduled to appear for her final progress report Thursday in connection with her necklace theft case. Despite media reports that Lindsay is in the clear from this incident, our law enforcement source says, "that isn't accurate because this is still an ongoing criminal investigation. It's a fluid situation and the detectives will be conducting further interviews with eyewitnesses."
UPDATE: "Lindsay will be appearing in an episode of Glee," Lindsay's rep, Steve Honig said in a statement but would offer no further details about when the episode would be airing.