Exclusive
Lindsay Lohan Lied About Alleged Hit & Run Incident!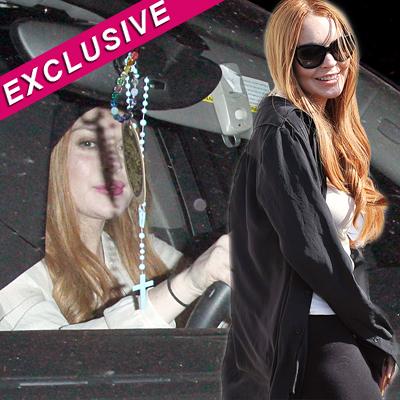 Article continues below advertisement
As we previously reported Lohan, 25, was driving away from the Sayers Club in Hollywood almost two weeks ago in her new black Porsche when she says she was blocked by a horde of paparazzi and club patrons from the nearby Hookah Lounge.
As Lindsay was trying to make a U-turn among the crowd at the late night hotspot, she allegedly hit the Hookah Lounge manager, Thaer Kamal, and his car and then sped off. Lindsay tweeted the next day, "Scrape? This is all a complete lie. I've been at community service. Last night, I attempted to wish a friend happy birthday, which I didn't even get to do because I was freaked out by all of the paparazzi. These false accusations are absurd."
The surveillance video reveals that Lohan's friend was initially behind the wheel of her brand new Porsche, and she was having trouble maneuvering out of the alley. LiLo, who was in the passenger seat, can be seen getting out of the car and trading places with the driver. As Lindsay was getting out of the Porsche to get in the driver's seat, Kamal is standing close to his car because he was concerned that his car was going to be hit. Kamal and Lohan clearly engage in conversation. There were absolutely no other paparazzi or photographers in the alley as Lohan claimed. Interestingly, there are also no photos of the alleged incident, which would have supported Lohan's claim.
Article continues below advertisement
Lindsay's rep released a statement the day after the incident, which contradicts what the surveillance video shows, "Lindsay stopped by the club to drop in on a friend's birthday party. When she arrived, there were so many photographers there that she decided to leave and never even got out of the car. At no point was there ever any indication that her car hit anyone or anything. We are confident this matter will be cleared up in the next few days."
"Make no mistake about it, Lindsay was definitely inside the Sayers Club that night. When Lindsay got out of the passenger seat of her Porsche to get in the driver's seat, she exchanged a few words with Thaer. He came out into the alley because he heard a car making a lot of noise, and he was concerned that his car was going to be hit," a source tells RadarOnline.com. "When Lindsay got out of the car, he smelled alcohol on her breath. He didn't think she should be driving, and told her so, and she replied 'f*ck you.' Lindsay hit Thaer with her car as she was attempting to get out of the alley and also bumped his car."
Article continues below advertisement
Kamal was standing out of range in the surveillance video when Lohan allegedly struck him with her car.
As Lindsay's car drives away, it stops briefly, and LiLo can be seen talking to what appears to be a lone female for about 2-to-3 minutes. After the conversation ends, the Porsche disappears from the surveillance footage.
Lohan reportedly believes she has no worries heading into her final progress report hearing with Judge Stephanie Sautner on Thursday, March 29. However, the Mean Girls star could have some explaining to do about her version of events of the alleged hit & run incident. Furthermore, Kamal will be giving an extensive sit down interview with cops this week and giving investigators copies of the surveillance video, as well as medical records and other documents pertaining to that night.