Exclusive
Lindsay Lohan Hit & Run Accuser Fears For His Family In Iraq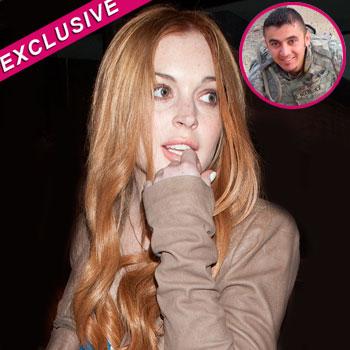 By Jen Heger - RadarOnline.com Assistant Managing Editor
Thaer Kamal, the Hookah Lounge manager who claims Lindsay Lohan hit him and his vehicle and then fled the scene, is now living in fear for his family in Iraq, after a photo of him wearing his United States Army fatigues was released, RadarOnline.com is exclusively reporting.
As we previously reported LiLo, 25, was leaving Sayers Club in Hollywood almost two weeks ago in her new black Porsche when she says she was blocked by a horde of paparazzi and club patrons from the nearby Hookah Lounge.
Article continues below advertisement
As Lindsay was trying to make a U-turn among the crowd at the late night hotspot, she allegedly hit Kamal and his car, and sped off.
Kamal, was born and raised in Iraq, and taught himself English. "Thaer wanted to learn to speak English because he loves America, and that is what he did. During the recent Iraq war, the U.S. Army was recruited Iraqis who spoke English to become interpreters. Thaer served with the Army for about two years. But when his service was finished, he couldn't remain in Iraq for fear of retaliation. He moved to Los Angeles, and left his family behind, his parents, brothers, sisters, and friends," a source close to the situation tells RadarOnline.com.
Kamal is "now living in fear for his family back in Iraq because of a photo that was released to the media of him wearing his Army fatigues. The release of that photo could have extremely dire consequences for his parents who are still in Iraq. The photo being made public has now unleashed a chain of events that could end in tragedy for Thaer's family and friends in Iraq.
"Thaer had been unable to sleep. Thaer was dealing with his injuries from the incident with Lindsay, but to have that compounded with concern and fear for his family, well, he is living a nightmare right now. His parents, and family have now become prime targets in Iraq," the insider says.
Article continues below advertisement
The timing of the current investigation into the alleged hit and run couldn't come at a worse time for Lohan, as she is scheduled to have her last progress report hearing for her necklace theft case in front of Judge Stephanie Sautner, on March 29.
If Lohan receives a favorable probation report, it's likely that Judge Sautner will terminate the actress' formal probation. However, if Lilo is arrested for leaving the scene of an accident, the judge could automatically send her to jail for 271 days.