Cops Have Video Of Lindsay Lohan At The Standard, Night Of Alleged Assault, She WAS There!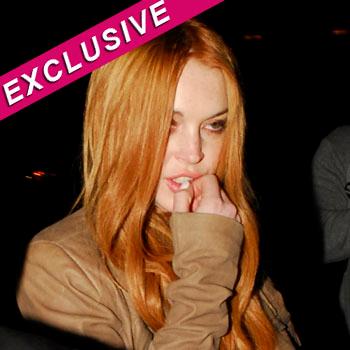 Article continues below advertisement
As previously reported, Lindsay is being investigated for allegedly assaulting Marisa Dugas almost two weeks ago. The actress vehemently denied being out that night, claiming she was at home watching television when the incident allegedly occurred, even though three people – including the accuser — have now filed police reports.
"Investigators obtained the surveillance video from the Smoke & Mirrors nightclub at The Standard Hotel and it clearly shows that Lindsay was there on the night of the alleged assault," a law enforcement source tells RadarOnline.com. "The investigation is still ongoing and follow-up interviews will now be conducted as necessary. Of course, investigators want to interview Lindsay about the incident, but she hasn't been interviewed yet, nor is she under any obligation to do so. Remember, two other witnesses besides the alleged victim filed police reports, including the bouncer of the nightclub."
When contacted for comment, Lohan's rep initially denied his client was at the hotel and told RadarOnline.com, "Whomever is responsible for this lie will be held accountable for their misguided actions." However, he is now saying, "We're going to wait for the Sheriff's Department to release their findings before we comment any further."
Just three weeks ago, Lohan, 25, was taken off of formal probation by Judge Stephanie Sautner, after successfully completing community service at the morgue. However, the actress remains on informal probation for the next two and a half years for her no contest plea in the misdemeanor necklace theft case.
MORE ON:
Celebrity Justice
Article continues below advertisement
Lohan reportedly went back to the scene of the alleged crime on Wednesday night, and had a drink thrown on her by another woman sitting in a nearby booth after being embroiled in a verbal altercation. The embattled actress is supposed to begin filming the Liz Taylor biopic for Lifetime Television soon, but as RadarOnline.com previously reported, she still hasn't signed the contract yet.
Lindsay's rep had no comment on this story.