Exclusive
Another Eyewitness Comes Forward In Lindsay Lohan Alleged Assault & Files Police Report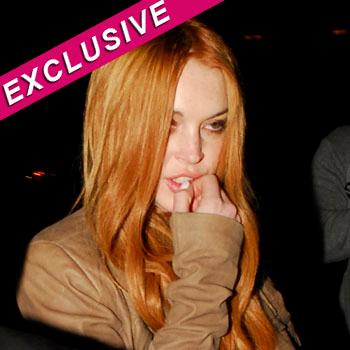 Article continues below advertisement
The actress claims she was at home watching television when the incident allegedly occurred, even though three people, including the accuser, have now filed police reports.
The new witness is an acquaintance of Marisa Dugas' and contends she witnessed Lohan shoving her friend.
"A woman that was at the nightclub, saw Lindsay shove Marisa, while she was standing with her back to her. She gave an honest account of what she saw that night, there is no doubt in her mind that it was Lindsay Lohan," a source close to the situation tells RadarOnline.com.
"There is absolutely no way Marisa or her friend would file a false police report, it's just not who these ladies are. Both are fully aware of the implications of filing a false police report, and it's absolutely disgusting that anyone would suggest they are lying."
As RadarOnline.com previously reported, Dugas has turned over photographic evidence of injuries she said were incurred as the result of Lohan attacking her.
Article continues below advertisement
"My client Marisa Dugas, has given the West Hollywood Sheriff's Department pictures of injuries that were inflicted by Lindsay Lohan. We are anxious to see the surveillance video which we feel will prove that Lindsay Lohan was at the nightclub and the evidence will speak for itself," Mark Haushalter, Dugas' legal ace attorney said.
Dugas did attempt to formally file a police report the day after the incident allegedly happened, but went to a police station that didn't have jurisdiction to investigate.
"Marisa went to the wrong police station and was told she needed to go to the West Hollywood Police Station, which she did on Saturday. She didn't wait two days to report it," an insider told RadarOnline.com.
"Marisa did nothing to provoke Lindsay and she was shoved when her back was turned. She took issue with Marisa talking to a young man that was sitting with a group around Lindsay. Lindsay is blatantly lying, she was most definitely at the club that night."
Article continues below advertisement
Just two weeks ago, Lohan, 25, was taken off of formal probation by Judge Stephanie Sautner, after successfully completing community service at the morgue. However, the actress remains on informal probation for the next two and a half years for her no contest plea in the misdemeanor necklace theft case.
Lohan has vehemently denied that she was at the hotel and said she was at home watching television. Lohan's rep told RadarOnline.com earlier this week, "Whomever is responsible for this lie will be held accountable for their misguided actions."
Dugas' camp maintains her position and when questioned why there were no photographs of Lohan placing her at the scene, our source answers, "That is easy, she came and left from the back of the hotel where there are no photographers. Just because she wasn't photographed at The Standard doesn't mean it didn't happen. That is ridiculous to claim!"
Lohan's rep now tells RadarOnline.com, "We're going to wait for the Sheriff's Department to release their findings before we comment any further."