Apollo Consults Divorce Lawyer About Phaedra — Confesses, 'I Despise Everything About Her, But I Still Love Her'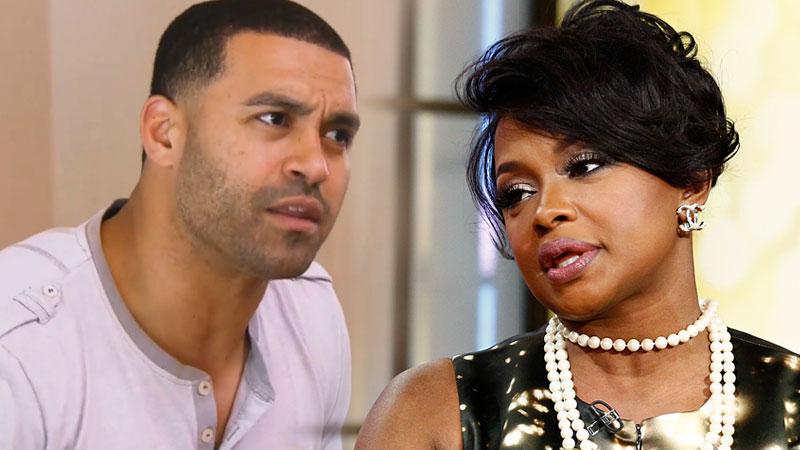 Prison-bound Apollo Nida consulted a divorce attorney and moaned that he both despised and still loved wife Phaedra Parks on The Real Housewives of Atlanta.
Sunday night's episode of the hit Bravo reality show continued to explore the nasty disintegration of Nida and Parks' marriage after he pleaded guilty to bank fraud and identity theft and was sentenced to eight years in prison.
While Parks was shown saying she didn't want their sons Ayden, 4, and Dylan, 18 months, to know anything about Nida's upcoming prison time, her husband met with legal eagle Randy Kessler to discuss a possible divorce from Parks.
Article continues below advertisement
Nida, who expected Parks to file for divorce against him while he was in prison, noted, "She's very calculating."
Nida told Kessler he was still in their home, but "I sleep upstairs or on the couch."
The convicted felon said it would be fair for him to have some standard of living when he got out of prison, and Kessler promised to look over the couple's finances.
"I love my wife. I despise everything about her but I still love her. This is a hard decision to make," Nida declared to the cameras about divorcing attorney Parks.
Meanwhile, Parks admitted to the cameras that she had no plans to have the kids visit Nida in prison.
In another devastating moment for Parks, Kandi Burruss told her and Porsha Williams how Nida had apologized to Kenya Moore for lying about her offering him sex.
"She did not offer to give him head," Burruss said. "He said he lied about the whole situation."
Parks was once again shocked by her estranged husband's behavior and told the ladies, "That's unbelievable. I was eight months pregnant at the time.
Article continues below advertisement
"If it wasn't true, I owe her an apology," she admitted about longtime nemesis Moore. "Poor Kenya."
Also on the episode, Burruss' husband Todd Tucker said his work schedule was so crazy that it wasn't the right time for them to have a baby.
But Burruss, 38, wanted to knock it out "and be done."
Viewers also learned more about new cast member Claudia Jordan, who is hosting the Rickey Smiley morning radio show in Atlanta after she had appeared on The Price is Right and other TV shows.
The divorcee admitted she likes aggressive men.
"If a guy is good looking and crazy and an a**hole, I've dated him," said Jordan.
Jordan's close friend Moore then informed fans that her own mysterious African boyfriend wouldn't move to the U.S., so the baby dream she's often discussed has been put on hold.
Meanwhile, according to NeNe Leakes, Williams now has a boyfriend with "a lot of moola."
Leakes and Williams met to discuss how neither was invited to Cynthia Bailey's notorious party where Nida showed up and apologized to Moore.
Article continues below advertisement
Leakes declared that Parks didn't owe Moore an apology — then both housewives complained about Bailey being a flip-flopper when it came to friendship.
However, Williams decided to have a pow-wow with Bailey, which got off to a terrible start when Williams showed up an hour late for their lunch.
But Williams said she wanted to clear the air between them, telling Bailey she didn't like how the model appeared to flip-flop in her opinion about Williams physically attacking co-star Moore at the RHOA reunion show.
"I didn't feel both ways," Bailey insisted. "I felt you provoked it. I don't condone violence."
Williams also criticized Bailey for making a comment after Williams was exposed for having given an allegedly anti-gay sermon.
"The story about me was bullsh*t," Williams said.
As things got heated, Williams told the cameras she didn't appreciate having Bailey's "long a** E.T. finger in my face" and implied the older star was going through menopause!
But Bailey also threw shade, saying about Williams, the ex-wife of former football player Kordell Stewart, "Oh, I'm a flip-flopper. Word on the street is you're flip-flopping with some old married man for cars and bags."
Bailey told Williams they needed to just stop talking about each other, then left the meeting in disgust, telling the cameras, "Bye, Porsha!"