Kenya Moore Questions NeNe Leakes' Honesty, Smarts & Character, Then Spars With Sherri Shepherd In Explosive 'WWHL'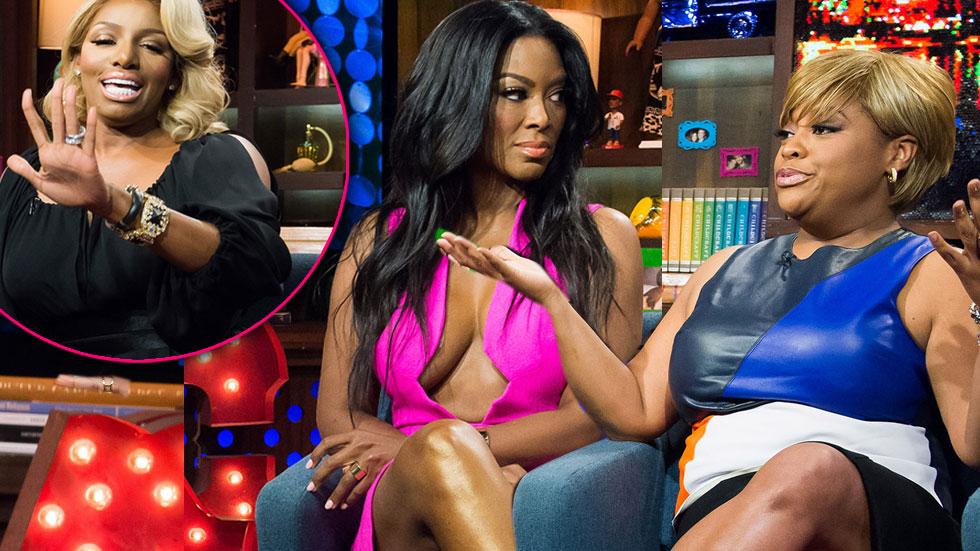 Kenya Moore was in prime form appearing on Sunday's edition of Watch What Happens Live, with her pageant-winning looks, brazen behavior and willingness to throw shade right at the top of the mountain.
And of course, at the top is NeNe Leakes, Kenya's Real Housewives of Atlanta rival who was the target of a few personal digs during the outing, as Kenya didn't miss opportunities to crack on her castmate's perceived shortcomings.
Article continues below advertisement
One of the issues at hand was the brouhaha involving $20,000 donations both Kenya and NeNe pledged to make to the Detroit Public Schools Foundation, but apparently didn't do it in a timely fashion.
Andy Cohen successfully stirred the pot, showing Kenya a montage of soundbites from NeNe's recent appearance in which she said of Kenya's donation, "Oh really, she finally made a donation to Detroit — didn't the statue of limitations run out on that?"
Kenya said she came through with her end of the bargain, then challenged NeNe's, saying, "Where's her money? … And then she said, 'Statue of limitations,' it's statute! It's not applicable here!
"Clearly, she should've gone to a Detroit public school!"
Watch the video on RadarOnline.com
Kenya said that NeNe's paranoia her castmates don't support her is "silly," as the Glee star has done nothing to earn loyalty of the peers she stepped on en route to becoming Bravo's top-earning housewife.
Article continues below advertisement
Article continues below advertisement
Sherri was visibly shocked by the testy exchange, telling Kenya, "Wow, that's a way to keep your fans, girl," to which the Atlanta beauty defiantly responded, "It doesn't matter to me."
Watch the video on RadarOnline.com
Sherri — a showbiz vet with impressive resume including The View, 30 Rock and a current stint on Broadway — then went for the jugular, reminding the Bravolebrity that a bad attitude does not always mix with the fleeting fame of reality TV.
"Girl, I hope you don't look up in 10 years and go, 'Where are the people who I need to keep me there?'" Sherri told Kenya, as the tension became easily visible to viewers.
"I have them, and the same to you," Kenya shot back at Sherri, who confidently replied, "I always have mine, mine are fine." (Sherri later wrote on Twitter, Each show I've hosted, acting roles landed TV, film & Broadway & standup comedy shows performed I've booked w talent alone #TwirlOnTHAT.)