'Miss Ratchet U.S.A.!': NeNe Leakes & Kenya Moore Viciously Spar Over Top Dog Status In 'RHOA' Reunion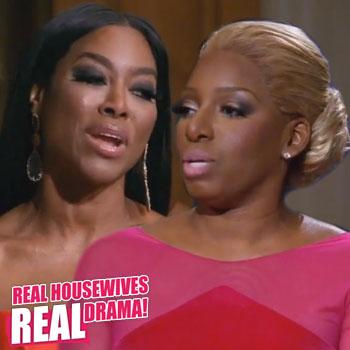 Who's the real star of The Real Housewives of Atlanta?
That's what viewers were wondering on Sunday night, as Kenya Moore revealed during the third installment of the show's reunion special that NeNe Leakes had complained to producers that they were trying to make the former Miss USA the new top dog!
Leakes' status on the show is being questioned, as the star has been feuding with Moore and Cynthia Bailey sending out angry tweets, and displaying a bad attitude during the reunion show.
Article continues below advertisement
On the Sunday reunion finale hosted by Andy Cohen, Moore discussed the season's infamous pillow talk party, during which a brawl ensued involving Moore's friend Brandon DeShazer, trying to defend her after Christopher Williams put his hands on the beauty queen.
But according to Moore, things were just as interesting before the melee ensued, when she arrived late to the hotel set!
As she was being mic-ed outside the hotel door, Moore told Cohen,"I hear NeNe screaming to the top of her lungs, saying, 'F**k the producers. I know why you guys are trying to make Kenya late. You're trying to make Kenya the star of the show and I'm the only motherf**king star of the show.'"
Leakes "was cursing every producer on the set," Moore said.
Watch the video on RadarOnline.com
Leakes claimed "delusional" Moore was making the whole story up, but when asked if she considered herself the star of the show, the reality beauty (who was physically attacked by co-star Porsha Williams during the reunion), laughed to Cohen, "I get a million tweets, saying, 'You're the new queen of 'RHOA' and with NeNe, I think they're really sick of her.
Article continues below advertisement
"I think the fans are sick of the 'attitude,'" Moore continued, as Leakes shouted, "You want to be the new queen, honey! But it's not going to happen!" — at one point dubbing her, "Miss Ratchet U.S.A.!"
Later, Moore, 43, accused Leakes, 46, of "insecurity" and creating a "hostile environment" for her on the show.
Faked Scenes, Lies & Payoffs – The Ultimate Guide To Reality TV Shows
The shouting never stopped on the reunion show, as Cohen questioned Leakes about the infamous "Bailey Bowl," in which Marlo Hampton had a meltdown and went after her friend. Leakes explained it was all Moore's fault: "I felt Kenya was getting involved … bringing Marlo over to talk to me. I wasn't interested in talking to that Marlo at that time."
Moore objected, "NeNe has a history of trying to control everyone around her. She's nothing but a dictator."
The former Miss USA claimed, "It's all childish and stupid. I've done nothing to NeNe. She plays dirty."
Later, Leakes said she had apologized on Bravo for her behavior at the charity event with Moore, in which the reality star acted ungraciously.
Leakes claimed Moore didn't wind up giving any money to the charity, and challenged the reportedly-broke twirl queen to match her in a $20,000 donation to the charity of Moore's choice. (Moore nervously agreed to the idea, but can she afford it?)
Article continues below advertisement
She then claimed to Cohen she didn't understand how things had gone so wrong with Leakes.
"I started off on a really good foot with NeNe," the 'Gone With the Wind' fabulous singer said. "I've always been a good friend to her."
But Leakes shouted, "You're not a friend of mine!"
Moore said as more yelling ensued, "No one wants to be friends with you!"
"I won't have nothing to do with you," Leakes said.
"Bye, Felicia," Moore said, using a slang term for a random b**ch!
But it wasn't a total goodbye, as Leakes later mentioned that Moore had charged her with being on drugs on Bethenny Frankel's talk show.
Leakes stressed, "I've never done drugs in my life, but you wanted people to believe it. You have a real character flaw."
The sometime-actress also parried with Moore over how much more financially successful she's been.
"Is your booty still on loan?" Leakes said, and gave husband Gregg a high five over a car she'd bought him!
Article continues below advertisement
Although Leakes and Moore's feud took center stage on the reunion, Leakes also got into it with Kandi Burruss because she'd written an unflattering comment online about Burruss' mother, Mama Joyce.
"I said it, I'm not taking it back," unrepentant Leakes told The Kandi Factory star.
Burruss said she deserved respect — and had never criticized Leakes' family: "But you do it all the time. That p*ssed me off.
"Are you trying to say my mama is in the gutter? What you said was bulls**t," Burruss added.
Meanwhile, Cynthia Bailey updated Cohen on her and husband Peter Thomas' financial situation: "We just made an offer to buy Bar One and it was accepted.
"Hopefully everything will work out," she said.
Cohen then turned to Phaedra Parks, whose ex-con husband Apollo Nida has had a bizarre flirtation with Moore on the show — and is facing fraud charges!
Article continues below advertisement
Nida joined the reunion show with his arm firmly around his wife. When asked about rumors of a marital separation, Parks and Nida both said, "We've never been separated."
However, Nida added, "Every marriage it takes a toll. It's a hard road."
Parks and Nida confirmed to Cohen they were undergoing marriage counseling.
The entertainment attorney revealed showing her marriage on the show hasn't been easy. "I was raised that what happens between a wife and husband is not TV fodder," she said. "I'm a very private person."
But Cohen pointed out she's on a reality show about her personal life!
Nida said, "For our marriage to continue to thrive, I have to be me."
In one of the reunion's many cringe-worthy moments, the husband candidly revealed he got the old Phaedra back, sexually speaking, "Three nights ago."
Later, when answering a viewer question about how she appears to treat Nida like a child, Parks snapped, "Be quiet please," to her husband! Then she insisted, "Apollo is his own man, he does what he wants to do, and I do what I need to do to keep our family intact."
Article continues below advertisement
About his charges for bank fraud and identity theft, Nida said, "We're just going to let it play out."
As RadarOnline.com has previously reported, Nida then turned to Moore and slammed her about their storyline that involved alleged texts between the two.
However, he also told Moore because of their connection, she wouldn't be on the show without HIM!
"I'm your storyline … I built you," he said.
Parks sniffed about Moore's plans to get pregnant: "While she's running around talking about my husband … she spends her weekends peddling through sperm banks …honey, you don't know if your baby daddy will be an axe murderer or a child molester."
Also on the reunion, Peter Thomas, Gregg Leakes, and Todd Tucker joined the group to rehash the season with their housewives.
Burruss' fiancé Tucker, who married her after the reunion show, faced the wrath of her Mama Joyce all season.
"It was funny on some sides but on some sides, a little disturbing because she's my future mother-in-law," Tucker admitted to Cohen.
The Bravo host then held Leakes' feet to the fire for offending gays this season, by using the loaded word, "queen."
Article continues below advertisement
Leakes offered what seemed like an insincere apology, and asked the openly-gay Cohen, "Do you need me to pull down your pants and kiss your ass? Should I hold a gay function?"
A weary Cohen asked the Glee star if she still enjoyed doing RHOA, and Leakes replied, "Sometimes. Sometimes not," indicating things had changed from previous seasons.
Watch the video on RadarOnline.com
And even happy bride Burruss said, "For me, it was a very stressful year."
But it was the most successful season in the history of the franchise — and it's not the last we'll see of the Atlanta housewives! Burruss' new show, Kandi's Wedding, about her nuptials with Tucker, debuts June 1 on Bravo.