Kenya Moore Thinks Porsha Williams Brawl Was Set Up, Says NeNe Leakes Is 'Threatened' By Her Star Power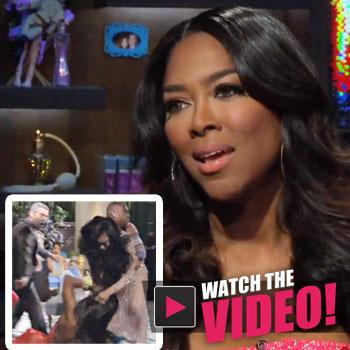 Article continues below advertisement
"Had you leveled the paying field, had you shown the flashbacks of her being aggressive toward me — had you done that — then you wouldn't have gotten the reaction that you did," the former Miss USA, who pressed charges against Williams in the skirmish, told Cohen. "You stacked the deck of cards against me, so that is the truth."
The "Gone With The Wind Fabulous" singer — who said her reality rival had "a plan in place prior to the reunion to come and attack me" — shot down Williams' claims that she was bullied as a child, leading her to violently lash out on the reunion special.
Watch the video on RadarOnline.com
"I think, by definition, of a bully is someone who torments a weaker person," she said, "and I think that that term is not appropriate here."
Moore compared Williams' aggression toward her to that of an abusive spouse.
"I think that she is a person who is incapable of showing contrition — she is not remorseful and I don't think that someone who was attacked would have to apologize for being attacked.
Article continues below advertisement
Watch the video on RadarOnline.com
"I think that's similar to saying if you're a husband and you beat up your wife and the husband says, 'Well she provoked me.'"
In the pow-wow with Cohen, Moore also singled out castmate Leakes for being jealous of her newfound notoriety on the top-rated Bravo hit.
"I think Nene is very threatened by me … maybe she does not have the career she thought she would have, and her focus is now solely on the Real Housewives, I think she's just clearly threatened by my existence on the show, and it is really sad, because I was a good friend to her."
Cohen then showed the stunner a clip of Leakes calling her a "ding-dong" who she doesn't like, grudgingly admitting her dramatics make for good TV.
"The ratings say that I'm great for the show," Moore said with confidence. "We don't need Nene to say it, the ratings say it."
Following up on a comment she'd made comparing her co-stars to pigs, Moore said it was in relation to how her castmates revel in the sensationalism and gossipy environment the show nurtures.
"I think just allowing myself to roll around in the mud with pigs, because the pigs love it and all you do is get dirty."
Watch What Happens Live airs on Bravo Sundays thru Thursdays at 11/10c.