Kenya Moore Breaks Her Silence On Porsha Williams Brawl: 'I Was Violently Attacked … I Will Not Just Let It Go'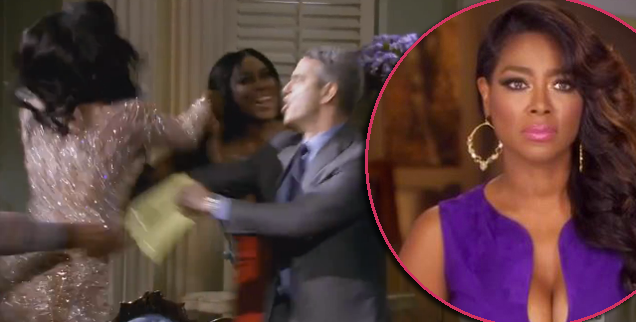 After being dragged across the floor by her hair in one of the most epic reality TV brawls of all time, Kenya Moore is finally speaking out about the incident, and blasting the woman who allegedly attacked her, Real Housewives of Atlanta co-star Porsha Williams.
"I was violently attacked by Porsha Williams," Moore said in a statement obtained byRadarOnline.com. "I called 911 to report the incident. The Atlanta police conducted an independent investigation, which included viewing the raw footage of the incident."
Article continues below advertisement
"After being repeatedly attacked by an abusive boyfriend at the age of 17, if someone puts their hands on me, I will not just let it go," she said.
Moore also blamed her RHOA co-stars for making "untrue, denigrating, disparaging, and inflammatory statements" against her throughout the season, in an attempt to provoke her.
"I have never reacted in a violent way. My intellect and my brain are my most powerful weapons—not my fists," Moore said. "If people get so angry that they lose control and admittedly 'black out' and resort to violence, those persons must be held responsible for their actions. Being a cast member on a reality show does not absolve people of their rights."
People We Love! Hollywood's Most Inspiring Rogues, Renegades & Rule Breakers
The "Gone With the Wind Fabulous" star chastised Williams for her violent behavior, saying she's a bad role model for young women.
"Being the second black woman to be crowned Miss USA, there are little girls who look up to me," Moore explained. "I would never want those girls, my nieces, or my future children to see me fighting anyone. That's the lesson we should all want to send, especially to young people—that no matter how angry someone makes you feel by what they say to or about you, violence is never an option. #stoptheviolence"