Porsha Williams Defends 'RHOA' Beatdown: 'I Felt Threatened' By Kenya Moore's 'Weapon'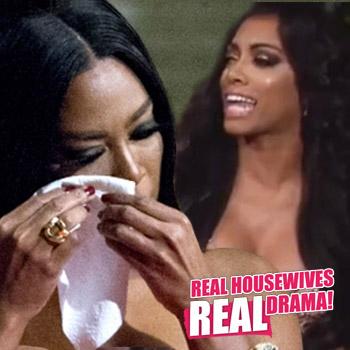 Article continues below advertisement
But she says her actions were justified.
"I see the wand so I'm sitting there this is a wand, what is she about to do with that," Williams explained.
"Then I realize she's using it as an extension of her arm, so I'm like ok cool as long as she doesn't bring it over here, I'm fine.. I saw the hate. I saw the anger. I saw all of that in Kenya's eye that moment. And I felt threatened, honestly I did, it was a weapon."
Article continues below advertisement
The RHOA star said that her intentions come from the heart and that she isn't just "working" on the show, unlike her nemesis Moore.
"When I'm in front of the camera, I wanna act, but then once the camera's on I'm Porsha…But for Kenya, she looks at this as a job. It's a show to her; it's just entertainment. So she doesn't take anything seriously…And so for her I'm like the complete opposite because here I am living this real life and here she is portraying one."
Even though she's been threatened with ejection from the show, Williams has the rest of the cast backing her as well as public support on her side.
"It's not about team Porsha. It's about team truth it's about team what's right and for me I don't want people just to be like oh team Porsha, that's great and I appreciate the love but understand the deeper thing that's going on here, it's bullying. Bullying can happen as an adult it can happen as a child in college on your work place everywhere."
Williams' interview with Access Hollywood Live airs today, Monday, April 28th and on Access Hollywood on Tuesday, April 29th, check local listings for show times.