NeNe Leakes Reveals Reunion Drama Was Scripted! 'RHOA' Star Posts Incriminating Text Message Which Proves Costar Cynthia Bailey Staged 'B*tch' Scene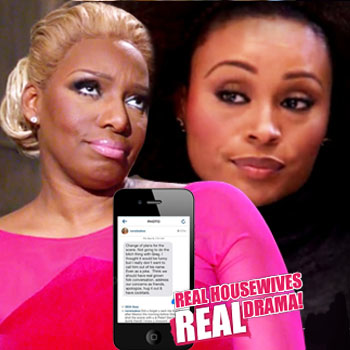 Cynthia Bailey and NeNe Leakes' friendship crumbled before viewer's eyes on Sunday night's Real Housewives of Atlanta reunion, as Bailey said her co-star was inappropriate for calling her husband Peter Thomas "a damn b*tch" in an earlier episode.
But Leakes is calling foul. In an attempt to expose Bailey, Leakes posted an alleged text message, in which the ladies discuss calling each other's husbands "b*tches." Leakes quickly deleted the text, but not before RadarOnline.com was able to get a screengrab.
Article continues below advertisement
In the text message, which Leakes claims was sent one day before they filmed the infamous scene, Bailey acknowledged that the pair had discussed the scene involving their husbands.
Bailey allegedly wrote: "Change of plans for the scene. Not going to do the b*tch thing with Gregg. I thought it would be funny, but I really don't want to call him out… even as a joke"
The text continues, "I think we should have real grown folk conversation, address our concerns as friends, apologize, hug it out and have cocktails."
Leakes captioned the text message: "Did u forget u sent me this text after Mexico, the morning before Gregg and I shot the scene with u and Peter. Don't play dumb friend!"
The alleged text implies that Bailey was aware the explicit exchange would happen – and that the scene was scripted!
During the second part of the RHOA reunion, Bailey and Leakes' feud was explored further. Bailey admitted that seeing Leakes call her husband a b***h, opened up old wounds.
Article continues below advertisement
"When it comes to NeNe, I have been extremely loyal, to the point where people think I live up NeNe's a**," Bailey said but revealed the friendship was indeed over: "We haven't really talked, two or three weeks now."
Faked Scenes, Lies & Payoffs – The Ultimate Guide To Reality TV Shows
The head housewife responded, "I'm not sure where that is coming from."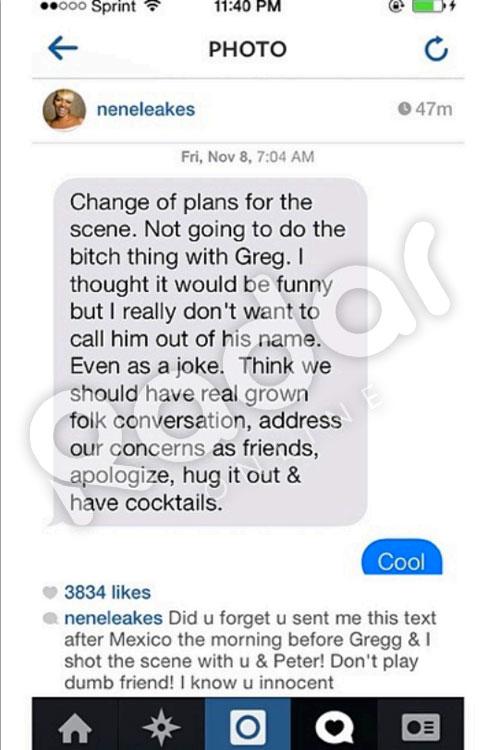 "These girls know nothing about our friendship," Leakes said, upset that Bailey was talking about all their issues publicly.
Bailey added wearily, "I love her… I miss NeNe, but I'll be okay. Unfortunately, sometimes you just come to the end of the road with people."