Alex McCord Blows Lid Off Real Housewives Secrets: Claims NeNe Leakes Is A Control Freak, Calls Producers 'Hypocrites' & Says Booze Is Always Flowing At Reunion Tapings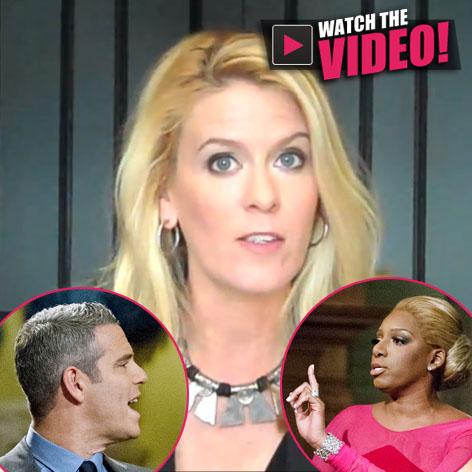 Article continues below advertisement
Dishing on Apollo Nida's appearance during the Real Housewives of Atlanta reunion, McCord contradicted what Leakes previously said about no booze allowed on set.
"There are plenty of free drinks available in the green room, even on reunion day, and it's possible that he joined that couch with some liquid courage," she surmised.
Discussing the vengeance with which Nida attacked Kenya Moore, McCord slammed the creative minds behind the shows.
"One thing that's annoying about producers on docudrama reality TV is that once they get their teeth into a story line they will beat that horse until it's dead, then bring it back to life and do it all over again."
McCord points out that Peter Thomas, Cynthia Bailey's husband, "Deserves an award for best use of a prop ever. Did you see it? Peter pulled out a peach and ate it," and slams the show execs again.
Article continues below advertisement
"It also goes to show you that the producers are hypocrites! After the Porsha Williams and Kenya fight Andy Cohen said no more props yet on the very same show and very same day Peter is using a prop!"
Scorned Exes Tell All: Inside Hollywood's Ugliest Splits
McCord also takes Leakes to task, saying she is a megalomaniac.
"Yes NeNe is trying to control the show and Andy and all the cast members are letting her do it. They will throw anyone under the bus except NeNe."
Check out McCord's cutting edge video to find out which Housewives stars share a date they probably would rather ignore and find out who she thinks is on the chopping block across the country.