Morbid Much? Kenya Moore Allows Cameras At Her Dog's Funeral -- 'Velvet Was Someone She Could Really Trust,' Eulogizes Aunt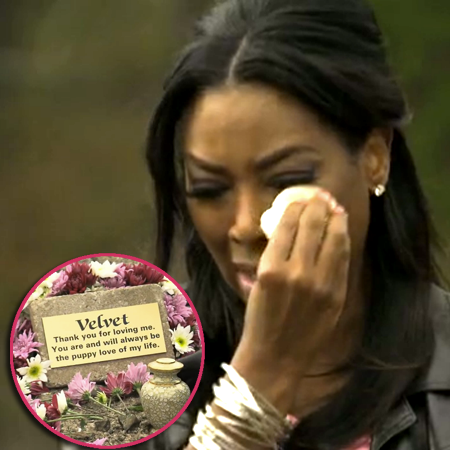 A devastated Kenya Moore is still mourning the death of her beloved dog Velvet and RadarOnline.com has learned she holds a memorial for the pooch on Sunday's finale episode of The Real Housewives of Atlanta season.
In the sneak peek from the next episode, the former Miss USA attends a funeral for her pup, who was killed by a neighbor's vicious dog.
"I still haven't come to terms with what has happened," Moore sobbed, before the cameras. "It's definitely not normal yet."
Article continues below advertisement
A heartbroken Moore, who this week insisted she didn't fake her dog's death for ratings, said her final goodbye, with her Aunt Lori and co-star Cynthia Bailey by her side.
"I'm sure all of Velvet's friends and relatives are here in spirit," Moore's aunt said, before presenting the eulogy for their furry friend.
"Much more than a pet, Velvet was someone Kenya could really trust and rely on. Kenya would speak honestly and openly to her knowing she would, of course, not judge her or criticize her.
Faked Scenes, Lies & Payoffs – The Ultimate Guide To Reality TV Shows
"The time will come Kenya when you'll be thankful that despite your grief and your sorrow, you had Velvet in your life," Aunt Lori added, as Moore is seen wiping tears from her eyes.
Off camera, Moore's assistant, Brandon DeShazer, has slammed rumors that the Bravolebrity faked her dog's death for television.
"That story was vile, disgusting and flat out a lie!" DeShazer wrote on Instagram.
Watch Moore say goodbye to her pet terrier Velvet, below.