'RHOA' Star Kenya Moore Devastated As Her Beloved Pet Terrier Velvet Dies -- After A Vicious Attack From Another Dog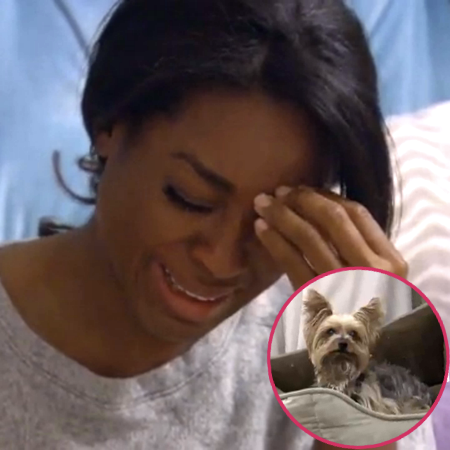 Single and childless Kenya Moore's best friend in the world was her dog, Velvet.
And on Sunday's episode of The Real Housewives of Atlanta, viewers saw the beauty pageant queen's meltdown after Velvet was killed by a neighbor's dog.
Listen! 'RHOP' star Wendy Osefo breaks down the "most intense fight in the show's history" in under 2 minutes.
Although -- as RadarOnline.com has reported -- Moore, 43, hit the headlines after being beat up by co-star Porsha Williams just days ago, she'd managed to hide her secret heartbreak over Velvet.
Article continues below advertisement
On the show, Moore was shown crying hysterically in bed as her Aunt Lori rushed to her side.
"It happened so fast. I let her outside and then I heard her screaming," Moore sobbed about her pet Yorkshire terrier. "I ran outside. She was on the other side of the gate. The dog had her in its mouth, dangling her."
Moore told her Aunt Lori she had rushed Velvet to the veterinary hospital, but it was too late.
"She was looking at me; I told her not to leave me. I could just see her letting go."
Moore explained to Bravo's cameras she'd had Velvet for seven years.
"I wasn't there to protect her!" Moore moaned to her aunt, who tried in vain to console her. "She always protected me ... even though she was little.
"Why her? Why now?" Moore said through her tears. "How do I go on?"
Moore's aunt told her it wasn't going to be easy but she had to accept it -- and should definitely have a memorial service for her pet.
Article continues below advertisement
"My whole world revolved around Velvet," Moore told the cameras.
Faked Scenes, Lies & Payoffs – The Ultimate Guide To Reality TV Shows
But Aunt Lori pointed out that maybe it was God's way of making room for a child for Moore!
"Do you believe that you're going to have a child?" Aunt Lori asked Moore. "Do you think you can give a child that same love you showed Velvet?
"That may be why God called Velvet away, so you can give this new child your undivided attention and your unconditional love."
Later, Moore met with co-star Kandi Burruss and Cynthia Bailey to break the bad news about her dog.
"She was my baby," Moore told Burruss and Bailey, saying she wanted them--and perhaps no other housewives--at Velvet's memorial service.
Watch the video on RadarOnline.com
"I have so much compassion for what you're going through," shocked Bailey sighed.
In another key RHOA Sunday night storyline, Mama Joyce came to watch Burruss' rehearsal for her play, "A Mother's Love," which detailed how the musician's disapproving mother had affected her relationship with her boyfriend (not so loosely based on Todd Tucker!).
Article continues below advertisement
As RadarOnline.com readers know, Burruss, 37, and Tucker got married on Friday, but on Sunday night's episode, they were still engaged -- and having big problems with Mama Joyce.
Tucker gave Mama Joyce a tour of the theater in order to have a private pow wow with her and said, "Somewhere we've kind of went wrong" because she viewed him as an opportunist.
Mama Joyce said that Burruss had told her she'd stopped liking Tucker.
"I didn't stop liking you; I stopped respecting you," she snapped.
The disapproving mother explained that she didn't trust Tucker's motives because of his career status.
"At first, you just seemed to be a working guy and then after you got with Kandi, the work stopped," she said pointedly.
Tucker explained that he had to give up his job because of Burruss. "Which was my decision. I took a break. I had a lot of money saved. I didn't take a break and live off your daughter. Not at all and never would I."
Article continues below advertisement
Tucker said he got calls for freelance jobs out of town and Burruss didn't want him to leave her side.
"I'm not here to get anything from Kandi. I'm not here to get her money. I'm here for her. I want you to see that and say I want that guy to be my son-in-law."
"I want us to all be a family ... to be happy."
"I would love for you to love me one day," he said, getting a little emotional with Mama Joyce.
In the end, Mama Joyce admitted she had been a little too protective with Burruss because Kandi's brother, Joyce's other child, had died and she never wanted to see anyone take advantage of her.
"I just hope you do have the right intentions toward her," a softening Mama Joyce told Tucker, giving in to his request for a hug and promising things might get better.
But will they? Earlier on the show, Burruss and Mama Joyce had met with therapist Dr. Sutherland to repair their strained relationship. And she told the shrink that Tucker had given up a $90,000-$100,00 a year job after he got engaged to Burruss.
Article continues below advertisement
Watch the video on RadarOnline.com
Also, "Since she's been with him, she put on 30 pounds," Mama Joyce sighed.
In another plotline on Sunday's episode, Porsha Williams was still giving Burruss fits by not showing up for rehearsal for her role in her play. Instead, Williams, 31, was in the studio working on her own single -- and hearing a vocal coach tell her he didn't believe a word she was singing!
Burruss visited her in the studio and forced Williams to admit she'd been wrong about a supposed miscommunication between her and "Kandi's team."
Burruss said sarcastically, "You need to check YOUR team," and Williams apologized.
Later, at rehearsal, the stage manager had a word with the tardy wannabe theater star.
"Are you going to be here for the performances? You missed so much."
"I'm here and I hope you get that from me," Porsha said. The stage manager rolled her eyes.
Porsha insisted, "I'm dedicated to this play. I don't want to be your headache."
Article continues below advertisement
Also on the episode, NeNe Leakes admitted to her manager, Steven Grossman, she never read one of the sitcom scripts he'd sent her because she'd rather try drama!
Although Grossman urged her to take acting lessons, Leakes, 46, told the cameras she was better off without too much instruction.
Grossman said he could see her doing the show Scandal someday. Incredibly, the Glee actress sniffed, "I've never watched it," and then told the cameras she just didn't have the time.
According to Thomas, he has always been up-to-date with his payments on the rent for the upscale lounge and restaurant.
But Bailey was shocked because the owner of Bar One also owns the property that houses Industry, her modeling agency.
Thomas was resentful that Cynthia didn't seem to trust him.
"I didn't see this coming."
"You never do, Peter!" she said.
But later, the two agreed from now on, Thomas would have to level with her sooner about what was going on in their businesses. Cynthia told her husband, "I will definitely hear you out."