RHOA: Mayhem In Mexico! Nene Leakes Calls Peter Thomas A 'Damn B***h,' While Phaedra Parks' Husband Apollo Nida Claims That 'Everybody Cheats'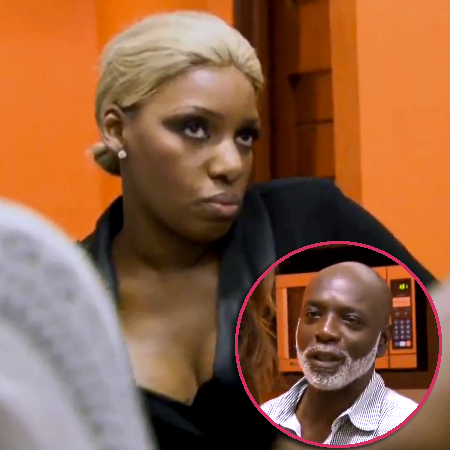 Article continues below advertisement
That's what happened on Sunday night's episode of the Bravo show, as the gang continued their vacation in Mexico that was hosted by Moore.
As the events picked up from the previous week, Parks caught Nida and Moore in an intense conversation.
"What going on here?" said Parks.
As RadarOnline.com has reported, Nida hemmed and hawed about smoothing over things with Moore, but an angry Parks then decided she would go to bed!
"I don't have time for this. I'm sick of it," she growled to the other ladies as she left.
Moore and Nida then shared a handshake, deciding that they could be friends from now on!
However, Leakes told Nida he was making his wife uncomfortable.
"I'm not a child. That's stupid," said the husband, who is currently facing fraud charges.
Faked Scenes, Lies & Payoffs – The Ultimate Guide To Reality TV Shows
Nida then found his wife standing by the hotel door because she didn't have a key. He then left her there alone and said he'd have someone get her a key!
Article continues below advertisement
Later, Moore's pal Miss Lawrence asserted, "Moore and Nida have Angelina and Brad's chemistry."
But Moore told the cameras, "I do not DO married ex-cons."
Meanwhile, the next morning, Nida brought Parks a flower and was trying to make amends but the housewife was still reluctant to talk to him.
Nida asked Kandi Burruss to help him put together a pre-birthday surprise for Parks: a party and a cake.
"You're just so mean all the time," he complained to Parks as he led her to the party in a blindfold.
Watch the video on RadarOnline.com
Parks hit a pinata at the party only to discover it was full of condoms!
Nida got up to make a birthday speech and thanked Parks for being the father of his two lovely boys.
"Let's continue to move forward," he said, a line which absolutely fell flat!
"Does anybody hear crickets?" Moore cracked to Bravo's cameras.
On the last day of their trip, Moore had a big surprise for everyone -- she vowed to "redo" the infamous couples' slumber party night went bad that Leakes had organized earlier this season.
Article continues below advertisement
In answering embarrassing questions posed at the Mexico party, Leakes was mad that Kandi apparently thought she was menopausal and didn't have a period anymore.
"I'm not checking your panties, okay?" Kandi laughed.
Then Porsha Williams got in on the act, making some in the group perturbed when she said older men could have romantic sex -- but not wild sex!
But it was "Miss" Lawrence who really got people talking by asking, "What would you define as cheating?"
Openly gay Miss Lawrence said all men have a tendency of cheating.
"If you want to cheat, you should not be getting married," Parks said. "Because the first time I find you cheating on me, I'm done with it."
Her husband, however, shocked everyone by saying, "For me, I feel like all people cheat."
When asked if he thought Parks had cheated, Nida replied, "NOW, NO. But at some point, something could happen. You never know. This is what I would tell her -- if she wants to cheat, please make sure that you wear a condom."
Article continues below advertisement
On that disturbing note, Moore then decided to dismiss the men to have a girls' only pow wow!
Moore said it had been a good trip and asked if anyone had any issues.
"What's going on with you and Marlo?" Moore asked Leakes about her show frenemy.
"We will not have that conversation tonight," Leakes told Moore firmly.
But Moore said she wanted them all to communicate -- and then turned to Parks to talk about Nida.
No Talent, No Problem: 25 Stars Who Are Famous For Doing Nothing At All
"I have asked you not to speak to my husband outside my company," Parks said.
"I never tried to f*** your husband," Moore said. "I really don't care about your relationship."
Parks sniffed, "I'm sure you don't. That's why you don't have a relationship."
Porsha then got in the middle of it, saying it was a married couple's situation that Moore couldn't possibly understand.
Article continues below advertisement
Shocking Stories You Didn't Believe But Turned Out To Be True
Moore snapped that Porsha had been in an arranged marriage as Kordell Stewart's "beard."
"You've never been married," Porsha pointed out. "You are low down, and you are dirty!"
Meanwhile, Parks told Moore, "I don't trust you."
"We can agree not to trust each other," Moore concluded.
The Hottest Stars From Reality TV
Meanwhile, the guys were doing even worse, as Gregg Leakes told Peter he didn't appreciate the way he'd approached his wife Leakes at the charity event earlier this season.
"There will have to be a showdown" if that happens again, Gregg said. "You disrespected me. You confronted her."
Peter said he'd been disappointed with Leakes for acting like she didn't want to be at the charity event.
But Gregg shouted, "Don't walk up on my wife."
Hollywood Boob Jobs! Whose Are Real And Whose Are Fake?
Peter and Gregg then started yelling expletives and getting in each other's faces, pointing at each other.
Article continues below advertisement
"You wanna live?" Gregg asked Peter.
Watch the video on RadarOnline.com
"F*** you!" Peter shouted.
As the women's party broke up, they heard the men going at each other.
"Who's fighting?" Leakes demanded to know.
Peter said they were arguing about the masquerade ball and Gregg had been harboring a grudge.
Then Cynthia's husband explained to Leakes she had behaved inappropriately at a charity event.
Leakes said, "You need to stay out of f***ing women's business. What we do as women is between us.
"You stop trying to be a damn b***h," Leakes told Peter as the episode ended.