Is Kenya Moore A Homewrecker? Atlanta Housewife Reportedly Reveals Identity Of Her 'African Prince' Boyfriend—And He's Married With Children!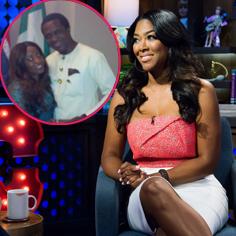 Article continues below advertisement
On May 27, Moore, 43, tweeted a photo of Cole with his arm around his wife, Sylvia, and holding hands with her, with a Nigerian flag in the background.
Moore wrote about the Twit pic, "Congratulations to Tonye Cole for graduating @harvard business School. It's an honor to know you."
The Nigerian web site Aproko247 said Cole's wife, Sylvia, who wasn't mentioned at all in the bizarre Tweet, is shocked by Moore's Twitter shout out and is "not taking things lightly with her handsome husband.
"It was learnt that she has not accepted explanations given by Tonye that the controversial picture was just a mere coincidental shot."
The web site further revealed, "Sylvia is said to be devastated at the moment and would not easily swallow excuses given by her husband's friends, who have reportedly waded into the matter."
Meanwhile, talk show hostess Wendy Williams believes Cole, the co-founder of Sahara Energy, Nigeria's mega successful oil and gas company, could be Moore's guy.
Article continues below advertisement
Williams recently said on her show about Moore, who has been trying to get pregnant as a single mom, "Many people including me had doubts about this African boyfriend really existing but now we might know who he is. His name is Tonye Cole and he's a Nigerian oil magnate. He was apparently recently speaking at Harvard University and Moore was spotted there with him, walking around the campus."
The talk show hostess was appalled, adding, "There's only one problem though, Kenya girl, you got to close your legs to married men. I'm sorry Kenya. We here at the Wendy show…we checked out…his Facebook page, his status and he's married with kids.
"In certain cultures you're allowed to have more than one wife and children…he's not from here so he might have a different way. But Kenya is from here. Why would you settle for that, Kenya?" Williams asked.