Exclusive
Tamra Barney Demands 'Custody Be Taken Away' From Ex-Husband Simon, Who She Claims Committed 'Child Abuse' In 'Alienating' Daughter Sidney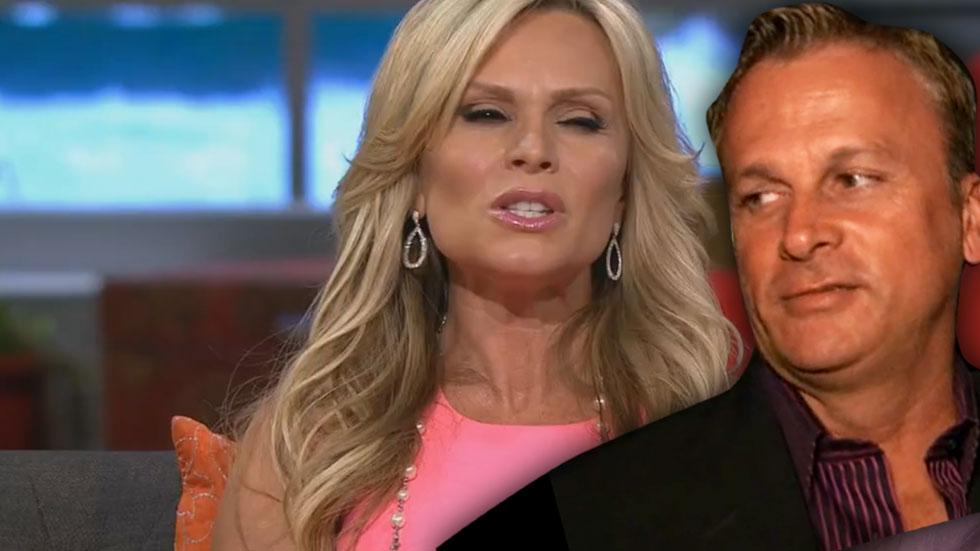 Tamra Barney won the battle, but she's still most definitely at war.
The Real Housewives of Orange County star spoke with RadarOnline.com following last week's family court hearing against her ex-husband Simon Barney. In the explosive interview, she let loose about her ex-husband's failure to shift the custody arrangement in his favor, his multiple allegations of neglect, and her ongoing struggled with her oldest daughter, 15-year-old Sidney.
Article continues below advertisement
She said that while she was thrilled with the judge's decision to deny Simon's request for a change to the custody arrangement of two of their three children, she believes her "custody should be taken away from" her ex-husband for an act she dubbed "a form of child abuse.
"It's parental alienation that's going on," she said, implying that Simon — who told the court Tamra has neglected their kids, leading to his request for an increase in their current 50-50 custody arrangement — has attempted to turn Sydney against her. "He is doing more harm than good."
As Radar previously reported, Orange County, Calif. Judge Thomas Hammond denied Simon's petition, saying he saw no evidence of Tamra neglecting the former couple's youngest kids, 14-year-old Spencer and 8-year-old Sophia.
"It's a huge relief all of this is over with … this is wonderful … nothing is going to change," Tamra told Radar. "Obviously, he had no evidence to back up his claims — I would never neglect my kids at all."
Article continues below advertisement
She said her two youngest children were "beyond thrilled" and "would have been devastated" if the judge had granted their father's request.
"I told them not to worry because nothing is going to change," the Bravo beauty said.
A decision swirling around custody of Sidney, who hasn't lived with Tamra for a year, was not handed down, as the judge set a December court date to follow up on the matter.
Tamra said her alienation allegations against Simon "will be brought up in December, when Sydney goes to therapy," a development which she said makes her "feel really good" about her chances of salvaging the fractured relationship.
Simon, Tamra told Radar, "stopped her from therapy when he filed the motion, but now, the judge has ordered her to go back to therapy.
"I'm happy we have some time with this to go to therapy," the fitness entrepreneur told Radar.
Tamra, in court Thursday, opened up about the many lingering issues with the teen, including a text message she admitted to sending, telling Sydney that she is not welcome in her house; Sidney's embarrassment of her mother "because of the show;" and Sidney's belief that Tamra's public narrative during her divorce with Simon "ruined her dad's life" and made him unemployable.
Article continues below advertisement
READ Simon's Shocking Claims About Monster Mom Tamra
The estrangement with Sidney, Tamra said, has led to "the worst year of her life."
Tamra — admitting she has "a hurdle with her daughter" said she's "certain Sydney will come around" and that "everything will be fine."
As Radar previously reported, a key to Simon's neglect argument was that Tamra was so consumed with the Bravo show, she had little time for their three children as it pertains to their their health, nutrition and hygiene, as well as school attendance.
Tamra vigorously denied the accusation, telling the court she films only four months out of the year, and controls the hours she works at her fitness facility.
"Who tries to take the kids away because the mom works?" she said. "Usually, it's the other way around."
Tamra said she hasn't "worked since February, so he part where he says I'm working too much to spend time with my kids isn't true — I take them to school, I go to appointments.
Article continues below advertisement
"He's the one working all the time and has his girlfriend take the kids … he's the Disneyland dad."
Among the specifics Simon cited in accusing Tamra of child neglect were a finger injury Spencer suffered while in her care; Sophia allegedly being late to school on a frequent basis; Sophia coming home unbathed; and instances of the children coming home with underwear that was soiled.
Tamra's rebuttal?
"He made it all up," Tamra said, adding he "tarnished her image as a mother," which is "all he ever wanted to do.
"He knows I'm a good mom — I pay for everything from clothes, braces, doctor appointments, sports — he does nothing, I'm the sole provider for my kids.
Tamra, who had her hunky hubby Eddie with her during Thursday's proceedings, left things with a stern message for her former spouse.
"It's time for Simon to get on with his life," she said, "and stay out of mine."