Exclusive
'You Treat Me Like Sh*t… What Have I Done To You That You Hate Your Own Mother?': 'RHOC' Star Tamra Barney Launches Into Tirade On 15-Year-Old Daughter In Leaked Text Messages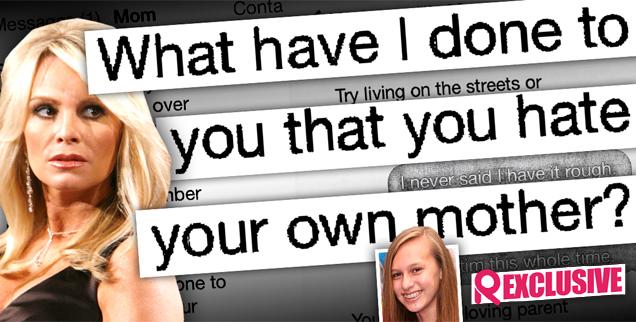 Article continues below advertisement
"You don't try!!! And I'm starting to not care anymore!!! I gave you life and went through a horrible life change (divorce) and all you care about is yourself. My pain has been deep for years and trying to make sure you kids are okay on top of that is not easy. If you don't like me for trying my best and you want to judge me …than have at it!!! I will always love you and when you figure out that you need your mother you know where to find me."
Article continues below advertisement
Faked Scenes, Lies & Payoffs – The Ultimate Guide To Reality TV Shows
Sidney writes back, "Wait so what you're saying is you don't think us kids went through a hard time in the divorce?" And in another writes, "Well, your acting like your going through a such hard time and we have the easy life."
"I had to pick myself up and make sure you guys got through it okay. You don't understand now. But you will when your older. How do you think I feel? I walk around with guilt every day knowing I broke up our family. You just want to judge me," Tamra responded.
"I don't. I am worried about the kids," Sidney says of her younger siblings, Spencer, 13, and Sophia, 8. "You seem fine. Your the one acting selfish."
But when Sidney tells her mother she doesn't feel like she's heard, Tamra gets defensive.
"Whatever! That BS. You don't even talk to me. You just judge me. You think your so perfect," Tamra writes to her daughter. "I can't make you want to try. But what I can tell you is eery girl needs their mother in their life."
Article continues below advertisement
"I'm talking. I'm communicating right now abut you don't hear me," Sidney reiterates. "I can't talk to you cuz I can't trust you… Cuz u break promises."
They Make How Much?! The 23 Highest-Paid Reality TV Stars
The heartbreaking text messages soon take a turn for the worse when Sidney tells her mother she's going to sleep.
"Btw. Stop being a victim and start being a survivor. Tons of families go through this and it's how you pull through it that counts. Stop blaming me, I'm a good mother and treat my kids well. You think you have it rough and you don't," Tamra writes.
"Try living on the streets or with parents that are drug addicts or having no food."
Sidney responds, "I never said I have it rough. Or that you were a bad mother. I'm not the victim you have been acting like the victim this whole time."
"That's so not true. I'm a victim. That is laughable. You treat me like sh*t. My parents would have smacked the sh*t out of me if I acted like that," Tamra writes.
"All I know is Spencer and Sophia are so much closer to me now that your gone. Maybe it's not all me?"
Article continues below advertisement
Scorned Exes Tell All: Inside Hollywood's Ugliest Splits
"Can we talk about this in the counselor office," Sidney asks. "We're getting nowhere. I don't want to argue anymore. I'm sorry for being disrespectful but I can't get through to you. GoodNight."
"Get through to me, what a joke!!! Whatever. So what's the plan. Your just never going to talk to me again?" Tamra asks.
"Answer me. I tried calling. You need to answer me. I've been very nice for months now. I have legal rights as your mother and I really don't want to go that route. But if you refuse to communicate, you leave me no choice! For the life of me I can not understand why you are SO disrespectful to your own mother. Can you please answer me."
Shocking Stories You Didn't Believe But Turned Out To Be True
Tamra continues through numerous text messages with no response from Sidney saying, "My heart is broken and I'm crying right now. What have I done to you that you hate your own mother? I am not perfect and have not always made the right decisions. But I"ve never wanted to hurt you. I have no more words for you. I wish you well."
The leaked text messages are a shocking glimpse into the RHOC star's broken family.