Exclusive
Gotta Pay Those Legal Bills! Tamra Barney Judge Auctions Off Her Wardrobe On eBay As Custody Battle With Ex Rages — 'Times Must Be Hard!' Critics Sniff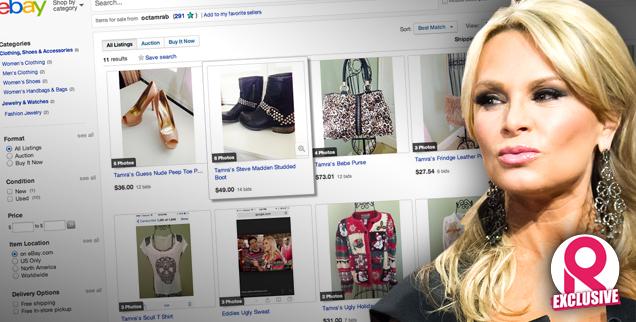 Article continues below advertisement
On June 16, Judge posted a link to her eBay store, and immediately ignited a firestorm among her followers.
Though some were glad to have the opportunity to snap up her stuff, others were less impressed.
"Times must be hard for our celebrity," Michelle Bella wrote.
Indeed, if Judge is looking to pay her legal bills in her custody battle with her ex Simon, she's going to have to clean out some more closets. The 11 items on offer are all going for bargain basement prices: One pair of nude peep toe Guess pumps is priced at just $26, and Steve Madden studded boots are at $49. Ugly holiday sweaters worn by Judge and her husband Eddie Judge on RHOC are going for less than $50 each.
And although the Kardashian family have made headlines for donating 10% of their auction proceeds to charity, Judge is taking home the profits herself.
And according to her customers, she deserves it. While the Kardashians have been plagued by negative reviews from fans disappointed with their "stained" merchandise, Judge has 291 positive reviews, and absolutely none that are negative or even neutral.
Would you buy Judge's duds? Let us know in the comments!