'Monster Mom' Tamra Barney Vows, 'I'm Going To Win' Vicious Custody Battle With Ex-Husband Simon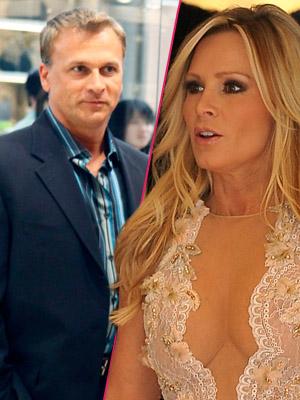 Tamra Barney Judge said her bitter custody battle with ex-husband Simon Barney has been devastating — but vowed with confidence that she would prevail.
That's what The Real Housewives of Orange County star told host Andy Cohen on Monday night's Watch What Happens Live.
"My ex is suing me for 100 percent custody of the kids and it's probably been one of the most devastating times in my life because these are my children. What kind of father does that unless the mother is a drug addict or something?" said Barney, who was joined on the show by TV shrink Dr. Drew Pinsky.
Article continues below advertisement
Still, she said defiantly, gesturing to herself as Dr. Drew spoke over her, "I'm going to win, 100 percent."
As RadarOnline.com has extensively reported, bombshell court documents have showed Simon is trying to change their custody arrangement, claiming Barney has neglected their three kids. Barney has staunchly denied his charges while daughter Sidney, 15, has reportedly said in court papers that the reality star was emotionally abusive. (RadarOnline.com learned that the couple recently was ordered into mediation on the matter.)
"Honestly, in his declaration, which he knew was going to be public, he said some really nasty things about me," Barney complained to Cohen on Monday night's talk show.
When asked by Dr. Drew if anything was factual, she said, "No! And my thing is — for somebody that's trying to keep his kids — 'cause he doesn't want the kids on the show … why would you do something like that?
"There were stories out there about my children that were just horrific. It's been hard; it's been sad; I've been crying for a week. I've been in a place, Andy, that I haven't been in 25 years," said the blonde reality TV beauty, who has claimed to have attempted suicide in the past.
Article continues below advertisement
"They're my kids and that's my life. You just don't do that."
Barney said that she tried not to speak about her children on the show, as per her agreement with Simon.
But she added of her youngest daughter, "Sophia is my little star: she's my little Mini-Me.
"She wants to be on the show, she loves the limelight, the spotlight. She's a singer, a performer and we wanted to try to get her on the show but it just didn't work out."
Barney said Celebrity Rehab therapist and radio host Dr. Drew was her "Twitter buddy," but added, "You had my ex on your show. He Skyped in."
"He said that fame ruins lives," Dr. Drew recalled. "I'm saying fame doesn't ruin lives, reality cameras ruin lives."
Barney said, "I disagree — I think bitter people ruin lives — my marriage was done before the cameras came in."
Now, Barney said she couldn't be happier with third husband Eddie Judge.
Article continues below advertisement
Faked Scenes, Lies & Payoffs – The Ultimate Guide To Reality TV Shows
However, Dr. Drew wasn't happy that Judge wasn't wearing his wedding ring during one scene on Monday night's latest episode.
"Whenever a guy does that, come on; he's looking for somebody to talk to without being encumbered with the idea that he's married," the psychologist pointed out to Barney.
She protested, "In Eddie's defense, he always wears his wedding ring, but he has two. He has one that we go out with and one that he wears every single day, so it was sitting on the counter when we got home and he just forgot to put it on.
"Sometimes those producers are like, 'Let's go!' "
Cohen asked Barney about the current storyline in which she's been begging Judge for their own baby — likely via surrogate or adoption.
"I'm so in love with my husband and we have such a good life together and when you get married, you just want to have that little being in front of you with little fingers and little face and all that," she confided. "But I also realized I'm 46, he's 41 and Eddie has never, ever wanted to have kids, I feel, because his mom and dad were not in his life.
Article continues below advertisement
"And he was raised by his grandmother, who was a wonderful woman."
Dr. Drew warned her that in his analysis, Judge might have learned that relationships eventually end — and he can't bring himself to have a child because it's forever.
"Watch him, be careful, that's all I'm saying," Dr. Drew told Barney.
Still, the housewife revealed, "He is so loving and positive. He's so good with my kids, so good with the dog."
In another funny moment on the WWHL episode, Barney dissed another reality star!
A viewer called in and asked Dr. Drew, who has appeared on Teen Mom reunion shows, about Farrah Abraham's sex tape.
"Who is she?" Barney said. When informed Abraham was on Teen Mom, Barney responded, "Oh, who cares?!"