Exclusive
Bombshell Court Documents: Ex-Husband Of 'RHOC' Star Tamra Barney Accuses Her Of Child Neglect — 'She Didn't Bathe Or Feed The Kids For Days!'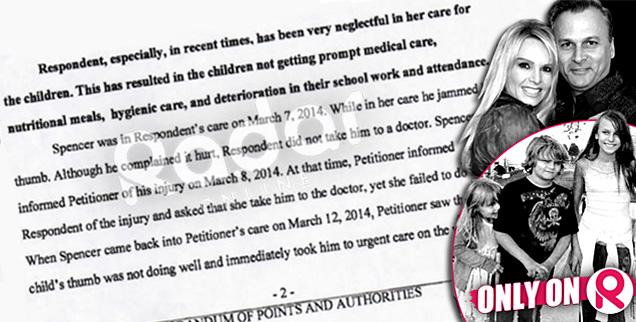 UPDATE 7:49 a.m. PT -- In a tweet to RadarOnline.com, Tamra Barney labelled her ex-husband's claims as "all bullsh*t and very hurtful." The Bravolebrity added, "Truth will come out soon. Way to hurt the kids Simon!"
The re-married Mrs Judge went onto to call ex Simon "controlling" who will "never stop" and said her "innocent children" were "scared" as a result of the court proceedings.
---
Real Housewives of Orange County star Tamra Barney's ex-husband made some shocking and horrific allegations against the mother of his three children in divorce documents between the two, exclusively obtained by RadarOnline.com.
Article continues below advertisement
"This has resulted in the children not getting prompt medical care, nutritional meals, hygienic care, and deterioration in their school work and attendance."
Simon cites an incident on March 7 when their son Spencer, 13, was in Tamra's care and she failed to take him to the doctor when he broke his thumb.
They Make How Much?! The 23 Highest-Paid Reality TV Stars
"While in her care he jammed his thumb. Although he complained it hurt, Respondent did not take him to a doctor… At that time, Petitioner informed Respondent of the injury and asked that she take him to the doctor, yet she failed to do so," the document states.
Article continues below advertisement
"When Spencer came back into Petitioner's care on March 12, 2014, Petitioner saw that the child's thumb was not doing well and immediately took him to urgent care on the very same day, a full five days after the injury had occurred. The thumb was later found to be broken and Petitioner made an appointment to go see an orthopedic specialist."
Also included in the court documents are text messages between Simon and Tamra in which the father claims the RHOC star neglected to properly bathe their 8-year-old daughter, Sophia, resulting in bugs in her hair!
"You haven't washed Sophia hair in 3 days," Simon texts.
"She had a bath yesterday and was too weak. It's not a big deal," Tamra responds.
Simon then attaches a photo of his daughter's matted hair asking, "This is not a big deal?"
"She has been in bed the entire time at the house. Like I said she has been in bed. Give it a rest …she is sick and sleeping. She came over with knots in her hair. Did I text you?" Tamra snaps back.
Article continues below advertisement
"She was in bed at my house and throwing up every hour. I still got her in the shower and took care of her," Simon wrote in the April 17, 2013 conversation.
Then just a month later, on May 30, 2013, Simon accuses Tamra of again not properly bathing their daughter.
"When Sophia came to my house yesterday she smelled really bad. I asked her and she said she had taken a shower since she was at my house. Her hair was so dirty that it smelled sour and we found a bug in it," Simon wrote to Tamra.
She immediately responded, "Shut up! She was here 1day … Leave me alone!!! Did you ever think she ran around at school and was sweating??"
"Why Wouldn't you have her take a shower?" Simon asked.
EXCLUSIVE COURT DOCUMENTS: See The Text Messages Between Simon And Tamra!
A list of allegations from Simon regarding neglect of the children's hygiene lists text message conversations going back to 2011 and 2012 in which he writes messages like "She stinks." and "She says you don't shower her at night sometimes and then run late in the morning so there's no time."
Article continues below advertisement
Simon claims Tamra's ability to take care of the children is so bad, that Sophia has gone two to five days without being bathed — and has been returned to him after being with Tamra "wearing the same underwear she had been wearing when she was dropped off by Petitioner days earlier."
Care is so bad with their mother, Simon states that their eldest daughter, Sidney, 15, asked to move out last October and has been living with him ever since.
"Additionally, there is rarely any food in the home for the children to eat, as Respondent's general practice is to eat out," the papers state.
"As a result of the instability, the children rarely have a nutritional meal at Respondent's home, and are often sick."
Simon is seeking to strip the reality TV star of all custody for their three children, and a hearing date has been set for April 24.
Stay with Radar for more of the troubling details included in the divorce papers between Simon and Tamra.