Exclusive
Tamra Barney's Ex-Hubby Accuses Her Of Forgetting To Pick Up Daughter From School Amid Legal Battle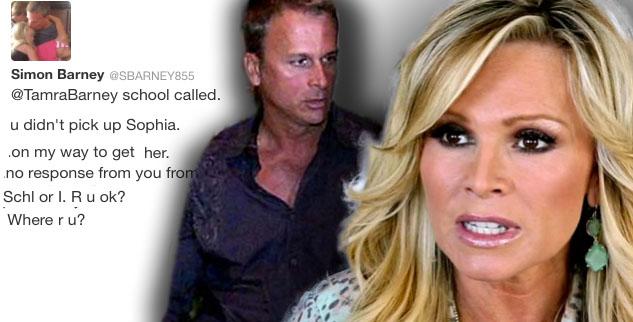 Article continues below advertisement
For all the world to see, Simon tweeted on Friday:
"@TamraBarney school called.u didn't pick up Sophia.on my way to get her.no response from you from Schl or I. R u ok? Where r u?"
The tweet has since been deleted and it appears Tamra was at home all along.
In reply to a follower that slammed Simon writing, "wtf who posts this on twitter" he responded with:
"I did,text and so did the school. Was hoping to get response from twitter. Btw. She's fine & was home."
RadarOnline.com reached out to Tamra for comment and got no response, and she doesn't appear to have tweeted about the alleged incident.
As RadarOnline.com exclusively reported, in a brief hearing Friday morning in an Orange County courthouse, the judge ordered an independent custody evaluation and investigation to determine if the former couple's three children should appear on camera.
It was a dramatic development, and the judge refused to issue a temporary ruling allowing the kids to appear on the original Bravo housewife franchise, pending the results of the investigation.