Exclusive
Tamra Barney Suffers HUGE Setback In Bid To Have Children With Ex-Husband Appear On 'RHOC'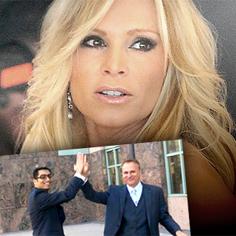 Real Housewives of Orange County's Tamra Barney suffered a huge setback to have her three children with ex-husband, Simon Barney, appear on the the hit reality television show because a judge ordered a custody evaluator and investigation to determine if they should appear on camera, RadarOnline.com is exclusively reporting.
In a brief hearing Friday morning in an Orange County courthouse, the judge ordered an independent custody evaluation and investigation to determine if the former couple's three children should appear on camera. It was a dramatic development, and the judge refused to issue a temporary ruling allowing the kids to appear on the original Bravo housewife franchise, pending the results of the investigation.
Article continues below advertisement
RadarOnline.com broke the story: A furious Simon said the couple's eldest children — Sidney, 15, and Spencer, 13 — had experienced "social ridicule" after scenes were aired depicting their mom's "head in naked strippers crotches, sex toys and sexual comments" during the last season of the popular program.
The pair also has another child, eight-year-old Sophia.
The fiasco began last week when Tamra went to an Orange County court in a desperate attempt to have a judge overrule her ex and allow their three children to be filmed as part of the show.
Lawyers for the Bravolebrity are arguing that under the family code, she should be able to act alone to permit the children to participate in the show, but only during her periods of her physical custody.
In his response, Simon said his ex-wife was "seeking to take away my right to parent and make decisions regarding the lasting effects and impacts the show may have on my children."
On Thursday, Barney fired back in a sworn declaration and said, ""From a positive standpoint, I do not have to hold myself accountable to the Petitioner anymore for what I do on my own time.
MORE ON:
Celebrity Justice
Article continues below advertisement
"I am currently in a happy and "healthy" marriage for the first time in a very long time. My husband and I having 'fun' at a bachelorette/bachelor party is not atypical of what other soon-to-be spouses do prior to getting married. In any event, we do not involve the children in any of these scenes and the Petitioner's self-serving declaration and exhibits verify this fact."
She revealed that her decision to ask for court intervention came after Sophia "expressed a desire to participate with me" in the series
"Petitioner attempts, in his response, to fit my request to adhere to Sophia's wishes to film with me into the category of a 'major decision,'" she said.
Simon Barney's attorney Simon Aziz Budhwani from Core Law Group, told RadarOnline.com: "The judge on the record stated, '"This is not a routine decision that Ms Barney can make on her own, it's a major decision. It requires both parties consent."
A hearing will be held on February 25, 2014 to determine if the kids will be allowed to appear on camera.