Exclusive
'Sex Toys, Strippers & Waxing Private Parts': Tamra Barney's Ex-Husband Tells Judge His Children Are 'Consistently Embarrassed' By Their Mom, As He Seeks To Ban Them From Appearing On 'RHOOC'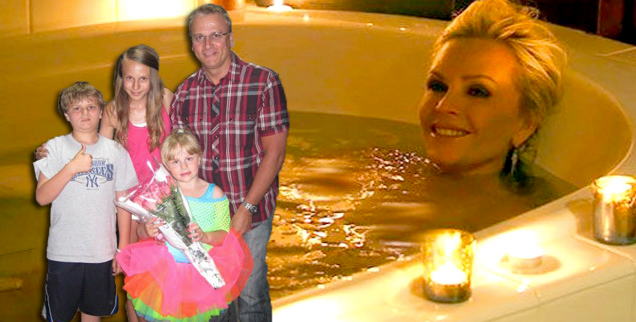 The ex-husband of Real Housewives of Orange County star Tamra Barney has told a California judge that the pair's three children should not be allowed to appear on the hit Bravo show because they have suffered "consistent embarrassment" due to their mother's behavior.
In a sensational court filing, a furious Simon Barney said the couple's eldest children — Sidney, 15, and Spencer, 13 — had experienced "social ridicule" after scenes were aired depicting their mom's "head in naked strippers crotches, sex toys and sexual comments" during last season.
Article continues below advertisement
"They have been targeted and are the subject of consistent embarrassment due to the content of the show and their mother's involvement," Simon said in a declaration filed on Friday as part of their ongoing feud.
He insisted the teenage pair had both refrained from being on RHOOC — rated a TV-14 on the TV Parental Guidelines system — and "want no part of it."
"The show (has) started to become increasingly more about the alcohol, intoxication, sex and bad behavior," said Simon, who bitterly divorced Tamra in 2010.
In his no-holds barred affidavit filed in an Orange County court and obtained exclusively by RadarOnline.com, the one-time reality star cited a number of X-rated scenes involving his ex-wife in a bid to prove his argument, including one which depicted Tamra "naked in a bath tub being intimate with her then boyfriend, current husband, Edward Judge."
Simon also said Tamra had her "vagina waxed on camera, with several men, other than her husband-to-be, present in the room," while her bachelorette party involved her "head in naked strippers crotches," along with sex toys and an array of inappropriate sexual comments.
Article continues below advertisement
He said he did not want the pair's children, including eight-year-old Sophia, to be featured because "the truth is consistently manipulated in the show in order to make the story line more dramatic and to boost ratings."
Simon charged: "The manipulation and falsification of original statements and actions results in a negative perception from the public and it destroys one's reputation."
RadarOnline.com broke the story last week: a defiant 46-year-old Tamra launched a court bid in a desperate attempt to have a judge permit the three children to appear on the original Housewives franchise.
Ahead of a Dec. 20 showdown in court, Tamra used her own court filing to argue that under California's family code, she should be able to act alone and permit the children to participate in the show, but only during her periods of physical custody.
The pair currently share joint legal custody of the children.
But according to Simon, "all major decisions pertaining to health, education and day care shall be made jointly by the parents."
Article continues below advertisement
"She is seeking to take away my right to parent and make decisions regarding the lasting effects and impacts the show may have on my children," he blasted.
"This is not a unilateral 'routine' decision, it is a 'major decision' that must be made jointly."
In her filing, Tamra — who joined the OC cast in season three — protested that Sophia had "expressed a desire to participate with me" in the series.
MORE ON:
Celebrity Justice
"I wish to provide her that opportunity," Tamra wrote. "In fact, if our other children express a desire to participate in the future, I would also provide them with that opportunity."
But Simon said Sophia is "too young" and "unable to make a decision on her own regarding her participation in the show as she does not understand the consequences it may have."
He said, "Respondent states that Sophia has expressed her desire to be on the show, but that is only because Respondent has told Sophia that she has to sit out on all 'fun' activities because I won't let her be filmed.
Article continues below advertisement
"An eight year old child us going to want to be a part of the activities is she is told they are 'fun' and she is being forced to sit out," Simon said.
He also responded to Tamra's claims that he is acting in "bad faith" by not allowing his children to be filmed given he'd previously appeared on the show.
"Our children appeared on the show from time to time, as one of the focuses on the show was out family and encouraged our familial relationship," Simon said.
"The show first aired in 2005 and I appeared briefly on the show from 2007 to 2009.
"My children made appearances in those years, but with strict supervision and approval from me.
"If my children were to be on my show, I had stated to the production company… that I was to approve all footage and the children were only to be filmed with my supervision and presence. At that time, (the production company) agreed.
Article continues below advertisement
"It was a good thing that I was on the show and supervising my children. One time while the show was being filmed, one of the cast members stated something about "T-Bagging" which is an inappropriate sexual comments, while Sidney, age 10 at the time, was present. I immediately took my daughter away and stated to the cast member that such comments were inappropriate while children were around. Later, he agreed that I was correct in needing to be present."
Simon said after he and Tamra separated in 2010, he chose to no longer appear on the show.
He said, "It was around this time that the show deviated sharply from the family oriented dynamic it had while I was on the show. The major reason I refused to allow the children to continue on the show."
Simon said he's constantly rebuffed approaches to rejoin the cast, "because I know the negative consequences and the impact it will have on my children's well being.
"(The production company) will only air the footage of my minor children if I give my consent, or if the Court orders that only Respondent's consent is required for the children to be filmed," he wrote.
"I will not sign the consent form for my eight year old daughter or my other children, to participate on the Shows, because I know the negative impact and consequences it will have on their health and well being."