Exclusive
Tamra Barney's Twisted Suicide 'Lie': 'Housewife' Slammed By Bitter Ex-Husband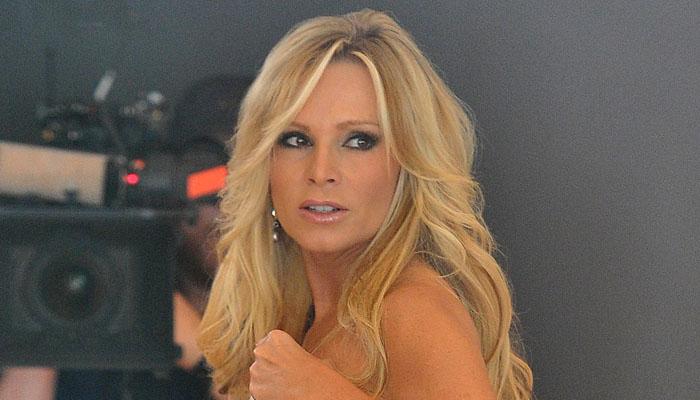 The Real Housewives of Orange County star Tamra Barney has been open about her past two suicide attempts, but that doesn't mean she's been honest!
In an exclusive interview, Tamra's first husband, Darren Vieth, reveals what he says REALLY happened the first time the 45-year-old reality star tried to take her life – and he's not holding back.
"Tamra is a liar, a cheater and a bad mother to our son, Ryan, and she seemed to enjoy constant drama in her life because it lead to attention," Darren, 48, said of his onetime high school sweetheart. "I couldn't believe that she blamed our failed marriage for her first suicide attempt.
Article continues below advertisement
"Tamra usually never tells the entire story, and this time is no different."
On a previous episode of Bravo's "RHOOC," Tamra – who married hubby No. 3, Eddie Judge, on June 15 -- revealed that she tried to overdose on pills and a bottle of NyQuill during her painful divorce from Darren in 1990.
But Darren says there's a LOT she's leaving out.
He says he suspected his young bride was cheating early in their marriage and caught her at the house of another man.
A man "about twice my size answered the door," he recalled. "I told him I wanted to speak with my wife. He told me, 'Tough luck, she's with me now.'
"Tamra was standing behind the guy, snickering and laughing at me."
Darren says that she moved out a week later, taking Ryan with her. But when he started dating someone close to a year after she left him, Darren says Tamra begged him to take her back.
"I flat-out refused," he noted. "One day Tamra called me and said, 'If I can't be with you I'm going to kill myself.'
Article continues below advertisement
"I tried to talk her out of it, but she said, 'This is going to be my final goodbye to you,' then hung up."
Darren said he reported the threat to authorities, and Tamra was rushed to the hospital and treated.
The drama continued even after they divorced. Darren says within a week of his remarrying, Tamra dumped their then nine-year-old son on his doorstep with a garbage bag full of clothing.
"She said to me, 'Here, you raise him' and left."
Darren had sole custody of Ryan for "several years" but says he gave custody to Tamra after he found out she was seriously dating (her second husband) Simon Barney.
"In a heart-to-heart conversation, Simon told me he was going to be in Ryan's life and would treat and raise him as his own," said Darren. "I'm still friendly with Simon and will always be indebted to him for taking care of Ryan.
"But the bottom line is that Tamra will always leave out the parts of a story that paint her in a bad light."
Responding to her ex, Barney said it was "all trash" -- rejecting that she'd cheated on him, was a bad mother to Ryan and had surrendered physical custody of him.