'RHOOC' Star Tamra Barney Reveals 'I Tried To Take My Own Life Twice'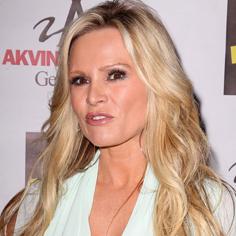 Freshly-minted Tamra Judge -- the former Tamra Barney -- has revealed new details about the plunging lows she has battled throughout her life.
In an interview with In Touch, The Real Housewives of Orange County star revealed she actually attempted suicide twice.
"I felt hopeless," the 45-year-old mother-of-four said. 'I felt like suicide was my only option."
During season eight of the hit Bravo show, Tamra first bared her soul in a series of emotional scenes, detailing how, at age 21 and after her first divorce from Darren Vieth, the father of her son Ryan, now 24, she attempted suicide.
Article continues below advertisement
"I took a bunch of prescription medication that I found in my mom's cupboard, then my mom found me and they took me to the hospital. They admitted me into a mental hospital," Tamra told the audience at a women's expo.
"It was just a breaking point. I felt like, 'I can't live like this anymore,'" Tamra told In Touch.
Now, it's emerged, four years later, at age 25, she tried again.
"It was exactly the same situation,' Tamra said. "I was in another bad relationship. So I took a large amount of prescription painkillers."
She added, "Feeling stuck in that situation caused me to try and do it again. I didn't know what to do. I thought, 'Okay, this is it. I can¹t do this again.'"
Tamra blames a number of factors for her lows: A "nonemotional" home, bad relationship choices and heredity.
"We have a long line of people who struggled with depression in my family - my grandmother was schizophrenic, and it just kind of trickles down," she said.
Of course, things are on the up for the blonde spitfire -- she married her third husband, Eddie Judge, in mid-June.
If you, or anyone you know, is struggling with thoughts of suicide, please immediately seek help ‹ you can speak with a skilled, trained counselor at a national Suicide Prevention Lifeline crisis center in your area, anytime 24/7 - call 1-800-273-TALK (8255).